This post may contain affiliate links. Please see my affiliate disclosure for more information.
Celebrate St. Patrick's Day with a warm hunk of Irish soda bread slathered with orange butter. This easy recipe is flavored with buttermilk and orange and pairs just as well with coffee or a pint! Cheers!
"I love bread!" No offense to Oprah, but I'm pretty sure she stole that from me. And it's true, I think it would be physically, and even more so mentally impossible, for me to go carb free. Call it addiction or obsession. Bah, I call it love.
Here's my dream food day: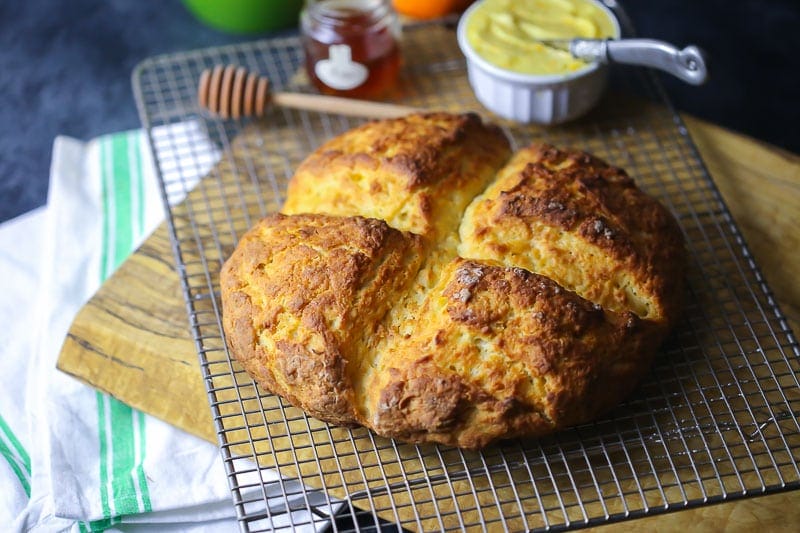 Breakfast: A big hunk of toasted bread or a flaky biscuit, butter very liberally applied. Pair it with my own pot of strong coffee. Done.
Lunch: Warm, velvety bowl of soup, maybe a small salad and of course bread to dip in the soup. (And I'll probably still be drinking that coffee even though it's gone cold.)
Dinner: Bread, cheese, olives, charcuterie, some berries and big glass of wine (red, white or rosé depending on the season and/or mood).
So, the theme is glaringly obvious here (other than I never drink water)…every meal on my dream day is carb, and more specifically, bread-friendly. Now, of course that's not a realistic meal plan for daily living, although I'm pretty sure I've had a couple of these days this winter.
But yeah, normally if I go all toast in the am, then I try to ease up the rest of the day or vice versa. Moderation right?
Well, speaking of moderation, you better head somewhere else today if that's what you're after. I have once again teamed up with some fabulous food bloggers to bring you another virtual foodie party. And of course with St. Patrick's Day only one week away (drum roll please) may I present our St. Patrick's Day Feast (you can follow all the goodness on Instagram with this hashtag: #saintpatricksdayfeast2017)!
My contribution is a (mostly) traditional soda bread with orange butter. The only tweak from a traditional recipe is the addition of a little sugar and orange zest. I love the slightly citrus flavor the zest brings to the bread, but if you're not super citrusy, feel free to omit.
Oh, and by the way, DO NOT be intimidated because this is called bread. It only has 6 ingredients other than brush of butter and sprinkle of sugar over the top and is easier than biscuits, cookies or my 5th grader's math homework (quite frankly a lot easier than his homework).
The key is not to over-knead…actually I don't really knead at all. I more or less gather the dough and form it into a ball, cut a criss-cross, cover (yes cover) and bake. There's quick and easy video tutorial below just to prove I'm not pulling your chain.
Now enough about me…here's a ridiculously tasty St. Patrick's Day line-up complete with cocktails. Enjoy!