This post may contain affiliate links. Please see my affiliate disclosure for more information.
This sweet and tangy poppy seed dressing makes this spinach salad sing!
Okay. So let me start by saying I love my husband. I really do. But sometimes when he pulls open the refrigerator door and stares inside, then lets out a big sigh and shuts the door…well, let's just say it's not just the refrigerated air that's making the room chilly. See, we see two very different things when we open that door. I see a plethora of ingredients, meals for days and endless possibilities. He sees not much past the milk.
It's an ongoing argument discussion in our house. The "there's nothing to eat" vs. "there's so much to make" debate. The crisper drawers are brimming with fresh produce, the door is lined with condiments galore and a big bowl of fruit is ever present on the counter to encourage healthier snacking. You can always find various cheeses, milk and eggs in the frig and this says nothing of the well-stocked pantry. But he sees…a lot of work.
So, it's time to work together as opposed to against. He's not a leftover lover like me, but he is always happy to see some egg salad, chicken cutlets or salad fixings ready to go. Especially when the weekends roll around, I now try to be sure that at least a couple of his favorites are stocked. But that brings us to the next debate. Salad dressing. Yes, somehow salad dressing has been at the crux of one or two disagreements.
He's asked that we keep a bottle of salad dressing on hand, but I just can't bring myself to pick one up at the store (kitchen control freak…who me?). Not when I know how simple it is to make a delicious dressing at home. A whisk, a bowl and a handful of ingredients and it's so much better than anything you can buy off the shelf. So, in the interest of peace and compromise, I now make extra dressing whenever I make a salad, then pour it into little containers and stack em up in the frig. See how agreeable I can be?
Which brings me to today's recipe…spinach salad with poppy seed dressing. And trust me you're going to want to double, if not triple, the recipe for this dressing so you can store some away for later. It's sweet and tart and tangy and when tossed with baby spinach, crisp apples, red grapes, dried cranberries and blue cheese crumbles it's pure bliss. This is one of those recipes that gets me through fall and winter, but is also good year round. It's fresh and crisp and always in season. You can swap out the blue cheese for goat cheese if you prefer; trade in the apples for pears or asian pears if you're looking for a change.
And even though I know how easy it is to whip up this dressing in a flash, I plan to have some mixed up for you-know-who. Because next time that refrigerator door swings open, I'll be prepared. He just better move the milk.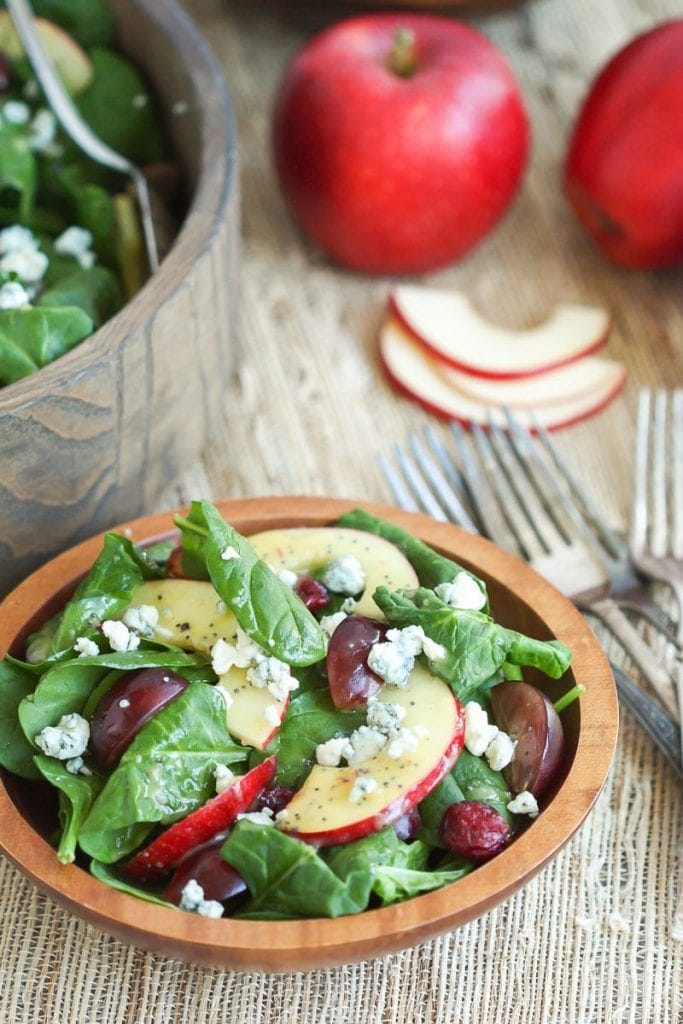 Spinach Salad with Poppy Seed Dressing
This sweet and tangy poppy seed dressing makes this spinach salad sing!
Ingredients
Poppy Seed Dressing

2

Tbsp

real maple syrup

2

Tbsp

apple cider vinegar

2

Tbsp

minced shallots

2

tsp

dijon mustard

salt and pepper

1/3

cup

extra virgin olive oil

1

tsp

poppy seeds



Spinach Salad

1-5

oz

bag baby spinach

1

apple

cored and thinly sliced

1

cup

red seedless grapes

sliced in half or quartered if large

1/2

cup

dried cranberries

2

scallions

chopped

1/3

cup

crumbled blue cheese
Instructions
In a food processor or mini prep fitted with a steel blade combine the maple syrup, vinegar, shallots, mustard, salt and pepper and process until combined.*

Add the oil and process until emulsified, then stir in the poppy seeds.

Combine all the salad ingredients in a large bowl and toss with as much dressing as desired.

*If not using a food processor or mini prep for the dressing, whisk together the syrup, vinegar, shallots, mustard, salt and pepper and then add the oil in a steady stream while constantly whisking. Stir in the poppy seeds when the dressing is emulsified.