Roasted carrots with miso butter are caramelized, tender and rich in umami.
Let's talk about umami. The "fifth taste" after sweet, salty, bitter and sour that is loosely translated from its Japanese origin to mean "deliciousness". It's that deep savory flavor found in nutty cheese, ripened tomatoes, mushrooms and fermented foods. It's that rich meaty taste of a juicy burger and why I go bananas for anchovies baked into a saucy, cheesy pizza.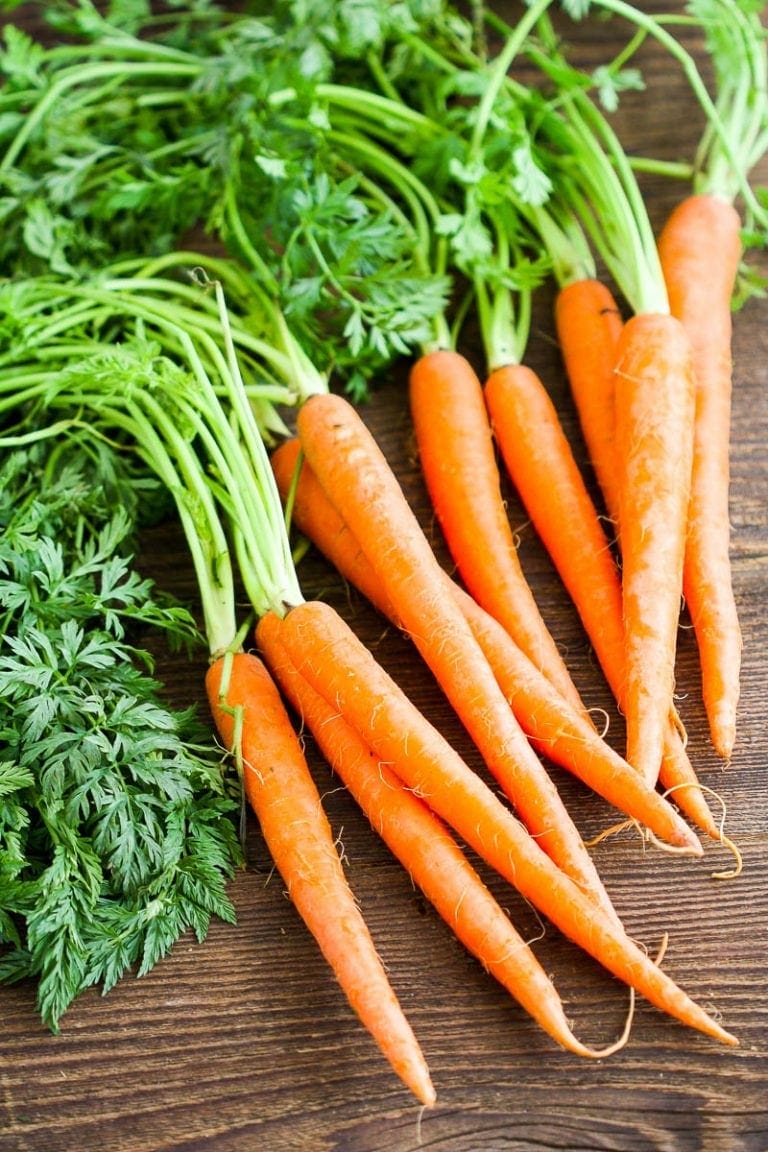 Umani is a flavor that chefs have understood for years, while not always able to put a name to it. It's found in soy, shellfish and cured meats. It's what has you plucking one more bite out of the Chinese food container even though you were full four mouthfuls ago. It's that pleasant, back of the mouth, satisfied feeling you get after enjoying a plate of eggs and bacon. Simply put, it's what makes delicious delicious.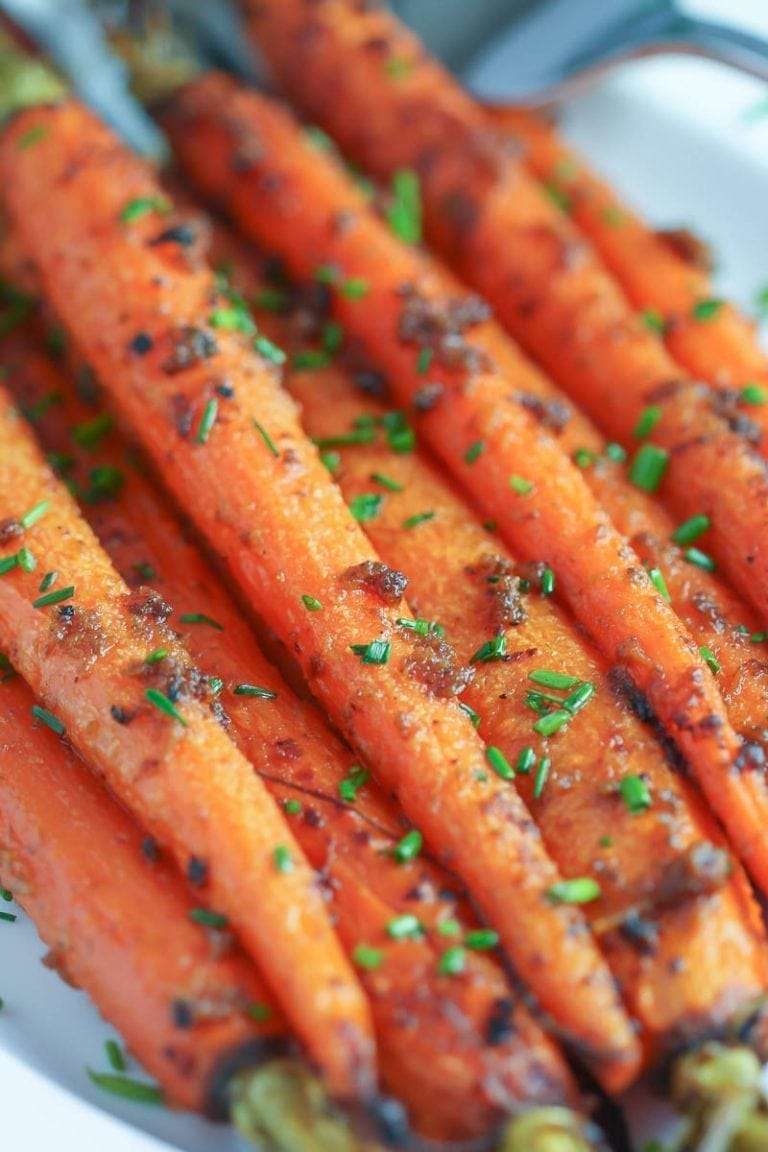 Today's recipe is brought to you by umami: roasted carrots in miso butter. This dish packs a two punch wallop of this unmistakable, yet often hard to describe flavor. The first punch is delivered in the carrots, rich in natural umami which gets intensified by roasting until they are browned and caramelized. The knockout punch is delivered in the miso butter. Miso is fermented soybean paste that I've whipped into a compound butter with citrus, sugar and spice. It melts into the carrots as they roast and the end result is a nutty, buttery, spicy side dish that is equally appropriate for a weeknight dinner or one that you would be proud to serve to company.
Umami may be a new term for you, but it's not a new taste. It's kind of like understanding love in your heart, but not being able to verbalize the nuances of the feeling. And in the case of umami, it's not a just picture that's worth a thousand words, its a forkful.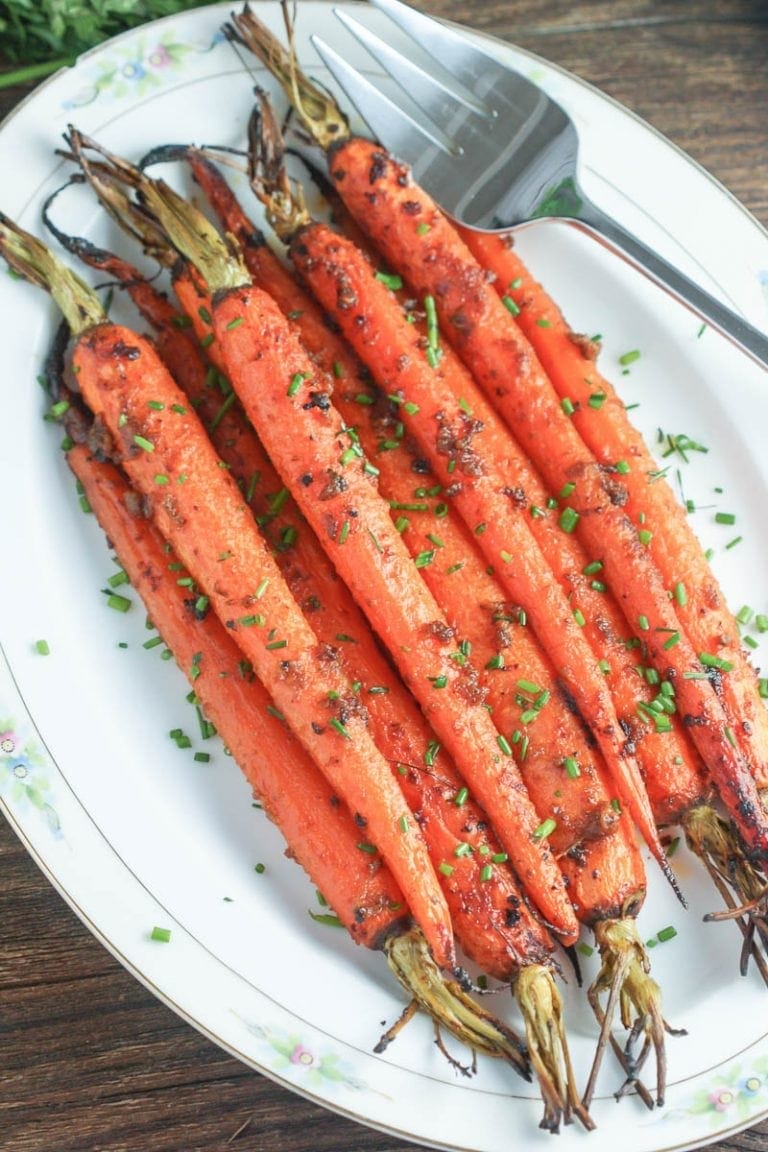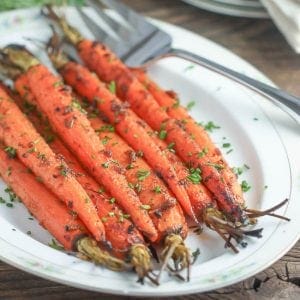 Roasted Carrots with Miso Butter
Roasted carrots with miso butter are caramelized, tender and rich in umami.
Ingredients
4

Tbsp

unsalted butter

softened

3

Tbsp

white miso

soybean paste

1

tsp

chili garlic sauce

2

Tbsp

orange juice

1

Tbsp

light brown sugar

1

Tbsp

chives

minced

2

lbs

carrots with tops

peeled and tops trimmed to 1-2 inches

1

Tbsp

minced chives for garnish
Instructions
Preheat oven to 425 degrees.

Combine all the ingredients except the carrots in a food processor fitted with a steel blade and process until fully blended.

Place carrots in a single layer on a non-stick foil or parchment lined sheet pan.

Spread the miso butter over the carrots and bake for about 30 mins or until carrots are browned and can be easily pierced with a knife. Turn the carrots once or twice while they're baking and baste. Baking times will vary depending on the size of of the carrots.

Top with minced chives and serve.
2