This post may contain affiliate links. Please see my affiliate disclosure for more information.
Looking for an easy and elegant main course for your holiday table? Roasted leg of lamb with baby potatoes fits the bill for Easter or Passover dinner.
This is the first year in as long as I can remember that we won't be celebrating Easter or Passover with family. It's one of those unusual years when both holidays land in the same week and my kids have spring break. So we've decided to ditch Jersey and head to New Orleans to introduce the kids to the Big Easy. Beignets, gumbo, muffuletta, po' boys, red beans and rice, pralines…the deliciousness goes on and on. Yes, of course I know that there's much more to Nola than food, but I'm hungry as I'm typing this and it's all I can think of right now. And, I mean, the food is seriously amazing.
But as much as I'm looking forward to our trip, especially since March has been pretty miserable weather-wise in the northeast, I am sad about missing out on the holidays. Both Easter with my family and Passover with my husband's are steeped in tradition, and of course much of that tradition centers around food.
Growing up, we had a special version of these classic Italian cookies baked with hardboiled eggs and drizzled with icing for breakfast. We spent the morning searching for our Easter baskets and once found, sneaking as much candy as we could. I looked forward to wearing a pretty new dress for church and once or twice even sported an Easter bonnet. Yes, an Easter bonnet. I remember my favorite was covered in white and yellow daises and tied in a bow under my chin. (Ah, to be young in the late 70's.) Easter dinner was served midday and of course followed up with more bites of chocolate bunnies and trying to pawn off those licorice flavored jelly beans to my brothers.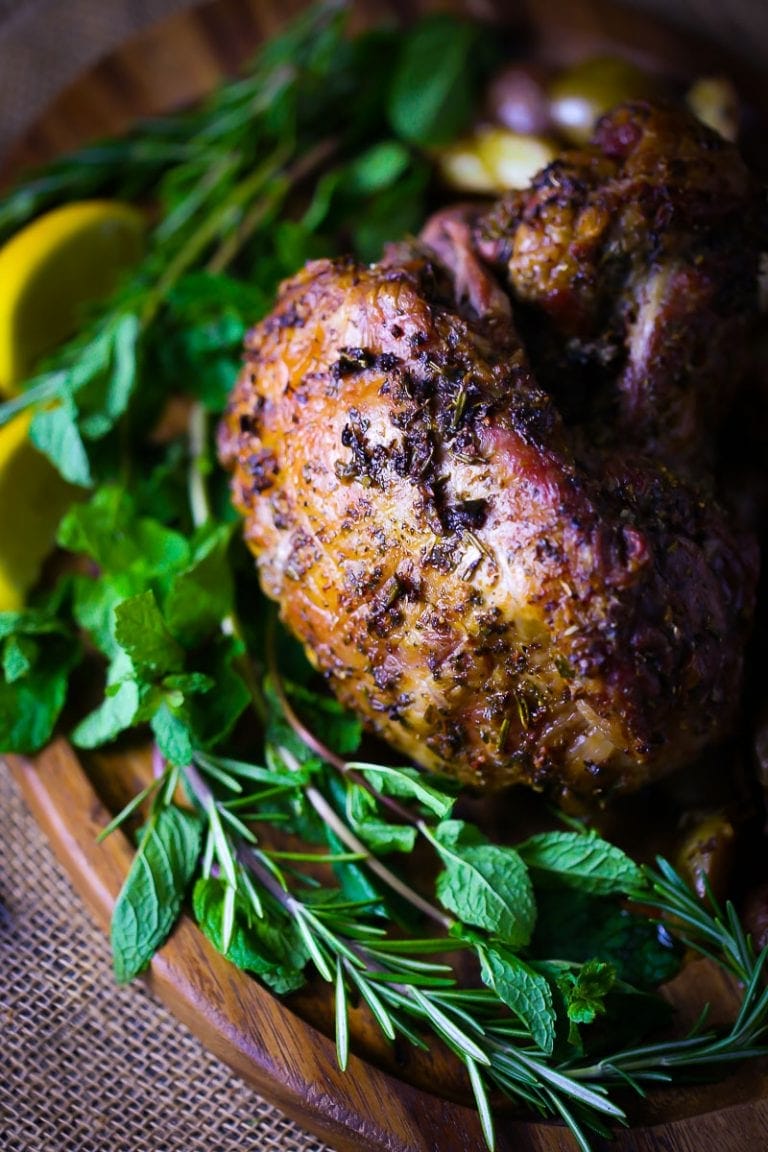 As an adult, I always look forward to celebrating Passover with my husband's family. The Seder table is beautifully set, the mood festive and the food delicious. We look forward to sharing the traditions that are unique to his family each year…the special songs, inside jokes, sentimental toasts and of course, the killer matzo ball soup. I typically bring dessert, which always includes coconut macaroons and usually something chocolatey. And I'm particularly partial to toffee matzo brittle, aka crack 😉 Check back next Tuesday because I'll be sharing that recipe and I promise you don't want to miss it.
And speaking of recipes, let's get to today's shall we? Roasted lamb is equally appropriate for Easter dinner or the Passover Seder. To keep it simple, I opted for a boneless leg of lamb that my butcher had all nicely trimmed and tied for me. I made an herb gremolata (an herb/garlic/lemon zest condiment) and blended it with olive oil and slathered it all over the lamb before roasting. I added baby potatoes and sliced fennel to the roasting pan for an easy side and love the way they absorb all that flavor from the lamb and the rub.
This is one of those dishes that is as easy as it is elegant, especially if you purchase it already trimmed and tied. I start it off on a high heat to get a nice crust, then reduce it for the remainder of the cooking time. My family prefers lamb medium rare – medium so I cook it to an internal temperature of 130 degrees and then let it rest for 15 mins before slicing (the internal temperature will rise an additional 5-10 degrees while it rests). The result is light pink roast, with a caramelized crust and wonderfully tender slices. As bummed as we are to not share the holiday with family this year, at least we got to enjoy this lamb roast as conciliation. Though no doubt it would have tasted even better shared with family.
Boneless Roasted Leg of Lamb with Potatoes and Fennel
Looking for an easy and elegant main course for your holiday table? Roasted leg of lamb with baby potatoes fits the bill for Easter or Passover dinner.
Ingredients
3

lb

boneless leg of lamb

trimmed and tied

5

medium cloves garlic

chopped

2

Tbsp

fresh parsley

chopped

1

Tbsp

fresh rosemary

chopped

1

Tbsp

fresh mint

chopped

1

tsp

dried oregano

1

Tbsp

lemon zest

about 1 lemon

2

tsp

kosher salt

1/2

tsp

freshly ground black pepper

1/4

cup

extra virgin olive oil

2

lbs

baby potatoes

halved or quartered so they are uniform in size

1

medium fennel bulb

fronds trimmed, cored, halved and then thinly sliced

salt and pepper
Instructions
Remove the lamb from the refrigerator and allow it to come to room temperature (at least 1 hour).

Preheat the oven to 450 degrees.

In a small food processor combine the garlic, herbs, zest, salt, pepper and olive oil and process until smooth. Place the lamb in a shallow roasting pan and cover completely with the herb mixture. Rub the mixture all over the lamb.

Roast, uncovered, for 15 mins.

While the lamb is roasting, cut the potatoes and the fennel. After the lamb has roasted for 15 mins at 450 degrees, reduce the oven temperature to 400 degrees and scatter the potatoes and fennel around the lamb, tossing well with the herb mixture on the bottom of the pan. Sprinkle with salt and pepper.

Return the pan to the oven and cook until an internal temperature of 130 degrees is reached (medium rare), about 45 mins.

Remove the pan from the oven and place the lamb on a ridged cutting board and cover with foil. Allow the lamb to roast for at least 15 mins before slicing. Give the potatoes and fennel a good toss and return to the oven for a few mins if needed until they reach your desired degree of doneness (I like golden brown veg).

Remove the butchers twine, slice the lamb and serve on a platter with the roasted vegetables.