Red wine poached pears are a sweetly spiced company-worthy dessert.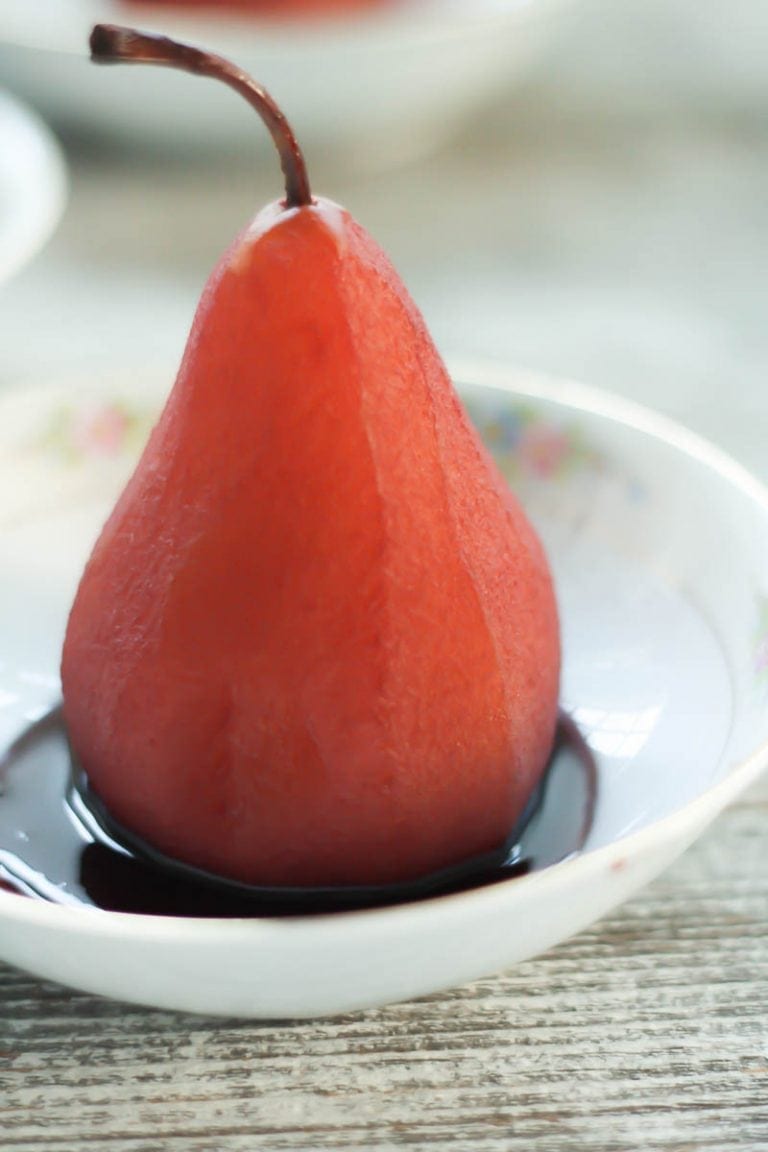 I love to finish a meal with a little something sweet and I can always find room for a bite of dessert, even if I'm feeling full after dinner. But dessert doesn't always have to be rich, chocolatey or heavy. Fruit can be a nice alternative to cake, and even better? Fruit poached in wine.
As a kid, dessert was a cookie or a bowl of ice cream that I would stir and stir until it became ice cream soup. Sometimes we would put a squeeze of chocolate sauce over the top or on a special occasion a drizzle of green creme de menthe. I would mix it up and slurp it down, my homemade milkshake in a bowl.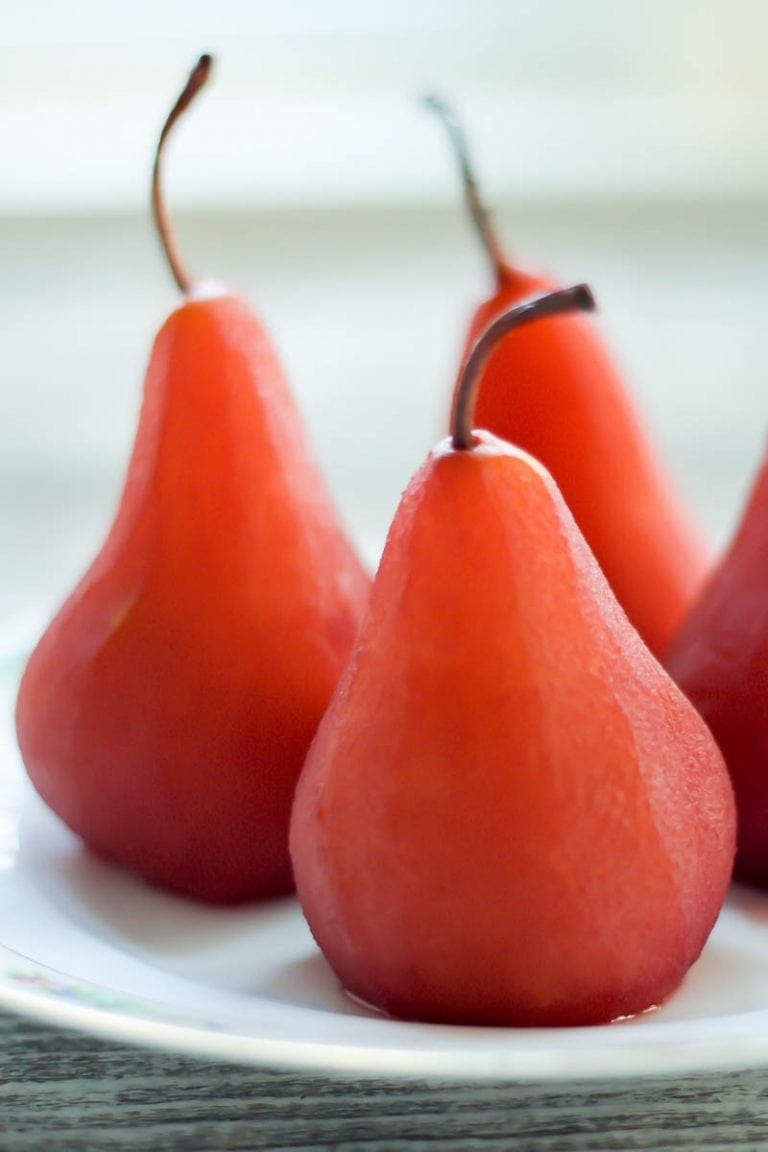 While I still love ice cream more than any grown woman should, I have expanded my horizons to include desserts that require a fork. And expand those horizons I did. I love it all….pies, cakes, tarts, and tortes. Cookies, pastries, candies and confections. I even like a nice cheese plate with a bit of jam or fruit. Another favorite of mine are pears poached in wine.
Poached pears are a wonderfully elegant dessert to serve to company and are crazy easy to make. Planning a romantic dinner at home for Valentine's Day? This is your dessert. They can be made in advance so all of your attention can be focused on your paramour. The pears simmer until tender in wine, sugar, spices and a little juice. Then pluck them out of the pot and pop them into the frig, and reduce that poaching liquid to a syrup for serving.
I love the vibrant red color of these pears after they've been simmered in red wine. They make a dramatic presentation on a white plate with a drizzle of the poaching syrup and a scoop of vanilla ice cream. They have a hint of spice balanced by a delicate sweetness, and the syrup gives it a punch of flavor. And while the grown up in me loves these pears for their elegant simplicity, the ice cream-loving kid in me isn't mad at the scoop of vanilla on the side.
Red Wine Poached Pears
Ingredients
Cheesecloth/twine

2

strips orange peel

2 inch strips

2

cinnamon sticks

3

cardamom pods

crushed

5

whole cloves

1

piece

of gingerroot

1 inch piece

1 750

ml

bottle red wine

such as Cabernet Sauvignon

2

cups

light brown sugar

1

lemon

juiced

1

orange

juiced

4

firm

ripe pears (I like Bosc)

Vanilla ice cream for serving

optional
Instructions
Lay out a piece of cheesecloth and place the orange peel, cinnamon sticks, cardamom pods, cloves and gingerroot in the center. Gather the edges and tie securely with twine.

Combine wine, brown sugar, lemon juice and orange juice in a large pot, sitr well, then add the cheesecloth bundle.

Bring to a boil, then reduce to a simmer over low heat.

Peel the pears, leaving their stems intact and take a small slice off the bottom of each pear so the bottom is flat. I like to cut out the core from the bottom with a paring knife or melon baller, but it's not necessary if you want to skip that step.

Place pears in the poaching liquid, cover the pot and simmer for 25-30 minutes or until a pear can be easily pierced with a knife. Turn the pears occasionally, so they cook evenly.

Remove pears, increase the heat to high and reduce the liquid by one half.

To serve, place each pear on a plate with a scoop of ice cream and a drizzle of the reduced poaching liquid.

Can be served warm or chilled.
2