This post may contain affiliate links. Please see my affiliate disclosure for more information.
Celebrate mom with a sparkly, bubbly, and festive Mother's Day mimosa bar! Gather up your favorite juices, slice the garnishes, and pop the cork for the special moms in your life.
It's hard to believe that I'll be celebrating my 15th Mother's Day this week. There are some days when I still feel like a teenager, rather than a mother to two teens. I love looking back through cards and gifts of years past; pipe-cleaner flowers, framed stick figure art, an unredeemed coupon for hugs. I'm a purger by nature, but even my semi-insensitive heart could never part with these sweet mementos.
This Sunday we celebrate all the moms in our lives. Mothers, grandmothers, mother-in-laws, aunts, and sisters.
I can think of no better way to celebrate these women than with bubbles and brunch.
If you're hosting brunch, do yourself a favor and set up a Mother's Day mimosa bar, complete with pretty sugar-rimmed flutes, decorative bottles of juice, pretty garnishes and, of course, bubbles!
It not only makes an attractive display, it allows your guests to serve themselves while you're busy in the kitchen.
Let's make a Mother's Day Mimosa Bar
First things first! Make your labels and cut your ribbons. I make my labels on the computer and use a decorative hole punch to cut them out. You can also use mini chalkboard labels and chalk markers, or buy pre-made labels and use a marker to inscribe them.
Now decorate your bottles with the ribbons and labels.
Create your arrangement with empty bottles, glasses, ice buckets, and dishes well in advance of your party. Once this is set, you can use post-it notes to create place holders.
Fill the glass bottles with juice, small bowls with garnishes, and decorate the bar or table with flowers, leaves or fruit "flowers".
Just before your guests arrive, set up the bar with all of the components including filling the ice buckets with ice and placing the champagne in to chill.
Use a wedge of fruit to wet the edges of the flutes and dip in colorful sanding sugar if desired.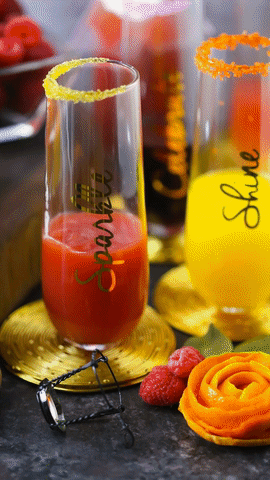 Tips for success
The most important consideration is the flow for your guests when creating a self-serve station. Arrange the bar in the order that your guests will make their cocktail: juice, bubbles, then garnishes.
If you're hosting a large amount of guests, consider having two stations or the same set up at two ends of a large table or bar.
Have back up bottles of juice and prepped garnishes in the refrigerator so it's easy to replenish the bar.
If you're planning to decorate your glasses or flutes with sanding sugar, consider doing them yourself before your guest arrive. It not only looks pretty, it will keep the line moving and will limit the mess.
More Mother's Day Recipes
Mother's Day Mimosa Bar
Celebrate mom with a sparkly, bubbly, and festive Mother's Day mimosa bar! Gather up your favorite juices, slice the garnishes, and pop the cork for the special moms in your life.
Keyword:
mimosa bar, mother's day
Ingredients
4

liters

Juices,

Orange, Blood Orange, Grapefruit, Pomegranate

2

bottles

Champagne

(prosecco or cava can be substituted)

Garnishes,

Raspberries, Strawberries, Orange slices, and Grapefruit wedges

Colored sanding sugar for champagne flute rims

Glass bottles with labels for juices

Pretty champagne flutes
Instructions
Tape a pretty ribbon and label around the 4-5 decorative glass bottles. Pour juices into the bottles.

Rub an orange wedge along the rims of the flutes and dip into colored sanding sugar. A mix of colors makes for an attractive display.

Arrange garnishes in bowls near the flutes.

Decorate the bar with fresh flowers or fruit "flowers". (An orange peel can be twirled around itself to resemble a rose.)
Nutrition Facts
Mother's Day Mimosa Bar
Amount Per Serving
Calories 225
Calories from Fat 9
% Daily Value*
Fat 1g2%
Sodium 5mg0%
Potassium 1000mg29%
Carbohydrates 52g17%
Protein 3g6%
Vitamin A 1000IU20%
Vitamin C 250mg303%
Calcium 55mg6%
Iron 1mg6%
* Percent Daily Values are based on a 2000 calorie diet.
Update Notes: This post was originally published in May 2017 but was republished with tips in May 2019.
22