This post may contain affiliate links. Please see my affiliate disclosure for more information.
Salty, spicy, boozy…these margarita watermelon bites are summer treats for the over 21 crowd.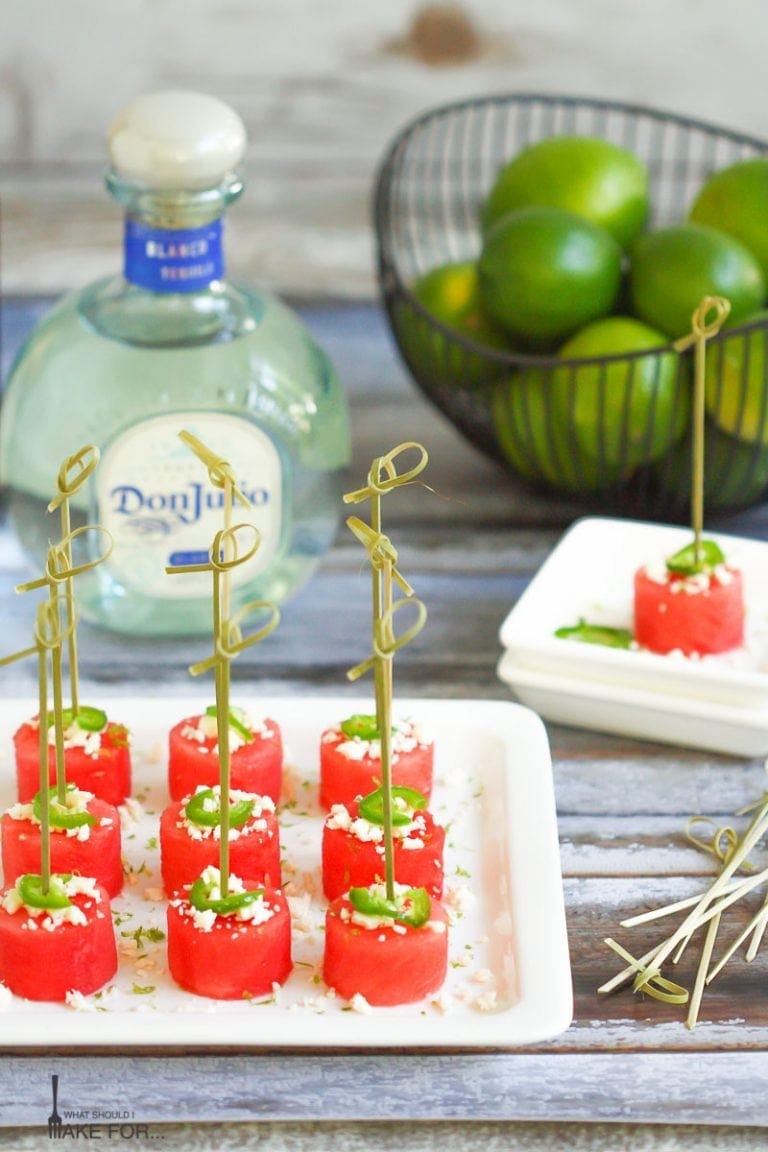 If you're a regular reader of this blog, you know that there are two things I've been obsessed with lately: summer and tequila. I love the bright, fresh flavors of summer produce, easy grilling recipes and of course, tequila-based cocktails and marinades. Tequila was my muse with margarita grilled shrimp and also inspired a spicy, smoky jalapeño paloma.
Today I've basically deconstructed a watermelon margarita and put a savory spin on it. Tequila, orange liquor and lime simple syrup are blended together to make a margarita marinade for watermelon rounds. After a good, long soak in this boozy blend, the watermelon rounds are topped with crumbled cojita cheese and candied jalapeño slices. This result is a grown up appetizer that is sweet, tangy, spicy and just right for your next party.
I served these watermelon bites at the event I co-hosted with artist Tara O'Leary this past weekend in Maplewood, NJ. Several guests joined us to view Tara's new collection of vibrant artwork and taste a sampling of recipes featured on this blog. It was a pleasure to meet readers face to face and share more than just pictures and words. I enjoyed interacting with our guests and seeing firsthand which recipes were the biggest crowd-pleasers.
The sweet and spicy combination of this appetizer made it a definite favorite at the party. The platter was empty in no time and I was left with just a container of marinade in the frig. But definitely don't pour that liquid gold down the drain. Grab a handful of watermelon cubes, a couple cups of ice and blend it with the marinade for a frosty watermelon margarita. Top it with a couple of slices of candied jalapeno for the perfect garnish.
It's clear that these bites will be a summer favorite in our house for entertaining. And of course anything that can be made in advance takes the pressure off when you're hosting a gathering, large or small. And since this appetizer is all about bright flavors, low-stress and advance prep, I'm sure you'll be serving it at your summer parties too. (And a big glug of tequila doesn't hurt either!)
Margarita Watermelon Bites
Salty, spicy, boozy...these margarita watermelon bites are summer treats for the over 21 crowd.
Ingredients
1

medium seedless watermelon

Lime simple syrup

recipe follows

2

jalapeños

thinly sliced into rounds

1/2

cup

sugar

1/2

cup

water

2

cups

tequila

3/4

cup

orange flavored liquor

such as triple sec or Cointreau

8

oz

cojita or feta cheese

crumbled

Lime zest for garnish



Lime Simple Syrup

2

cups

sugar

2

cups

water

2

tbsp

lime zest

1/2

cup

lime juice




*1 1/2 inch round cookie cutter

*bamboo knot skewers
Instructions
Cut the watermelon into one inch slices. Using the cookie cutter, cut out rounds from each slice and place into a large, flat container and set aside.

Lime simple syrup: Combine all ingredients in a small saucepan set over medium heat. Stir until sugar is completely dissolved and then remove from the heat. Chill.

In a separate small saucepan combine sugar, water and jalapeño slices and set over medium heat. Bring to a boil and reduce to a simmer. Simmer for about 10 minutes and remove from the heat.

Place jalapeños and the cooking syrup into an airtight container and chill.

In a medium bowl whisk together the lime simple syrup, tequila and orange liquor and pour over the watermelon rounds. Cover and chill for at least 2 hours and up to 6 hours.

To serve: Remove watermelon from margarita marinade and place in a single layer on a platter. Scatter cojita cheese over the watermelon. Place one candied jalapeño slice on top of each watermelon round and skewer.

Garnish with lime zest and serve.