This post may contain affiliate links. Please see my affiliate disclosure for more information.
Rich, hearty broth, crunchy bread and gooey cheese make this bowl of french onion soup pure comfort food goodness.
You wouldn't build a house starting with the roof right? To have a solid structure you need to start from the ground up. A solid foundation, sturdy walls and it's not something that can happen overnight. Well, the same philosophy and patience are often needed in the kitchen too.
Have you been to New Orleans and tried the gumbo? It all starts with the roux, a combination of fat and flour that is cooked to a rich, deep brown and serves as the base. I love a gumbo where the roux is cooked for about an hour, allowing the flavors to develop and deepen. Sure, you could spend less time, but in the end your gumbo will be compromised. Good? Maybe. Great? Meh.
Well, we're not making gumbo today (but boy, do I suddenly have a hankering). Today we're tackling French onion soup.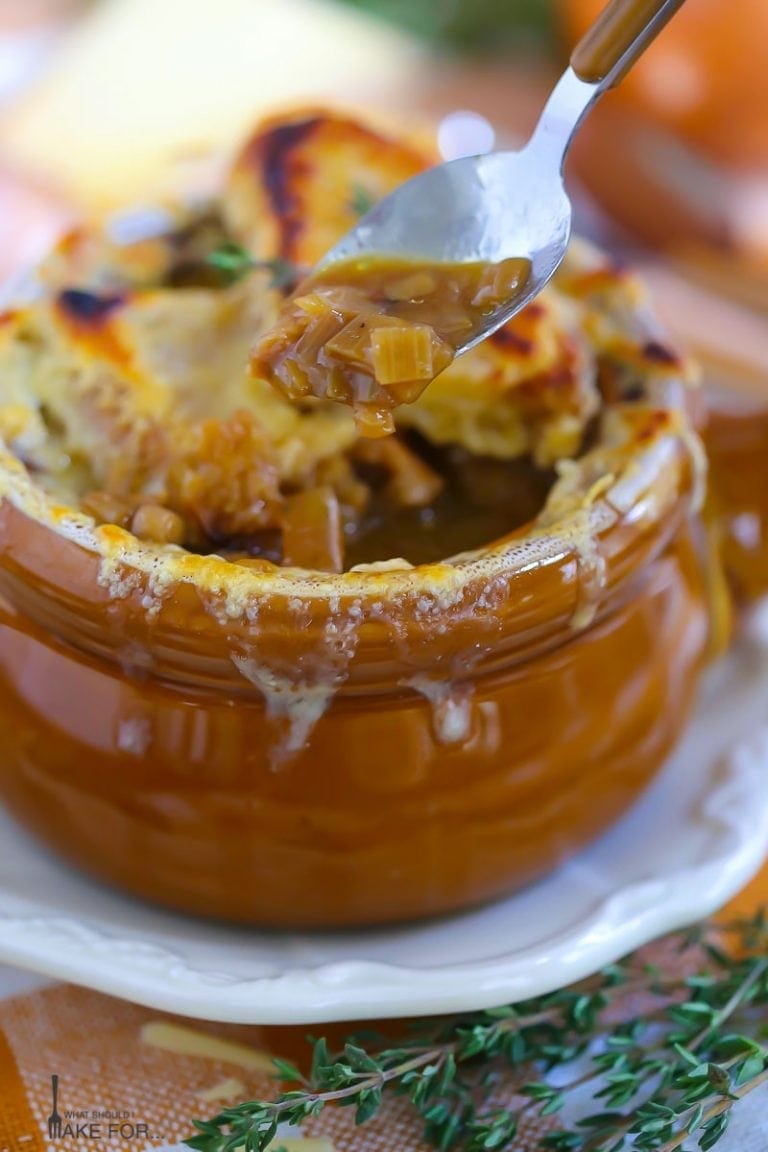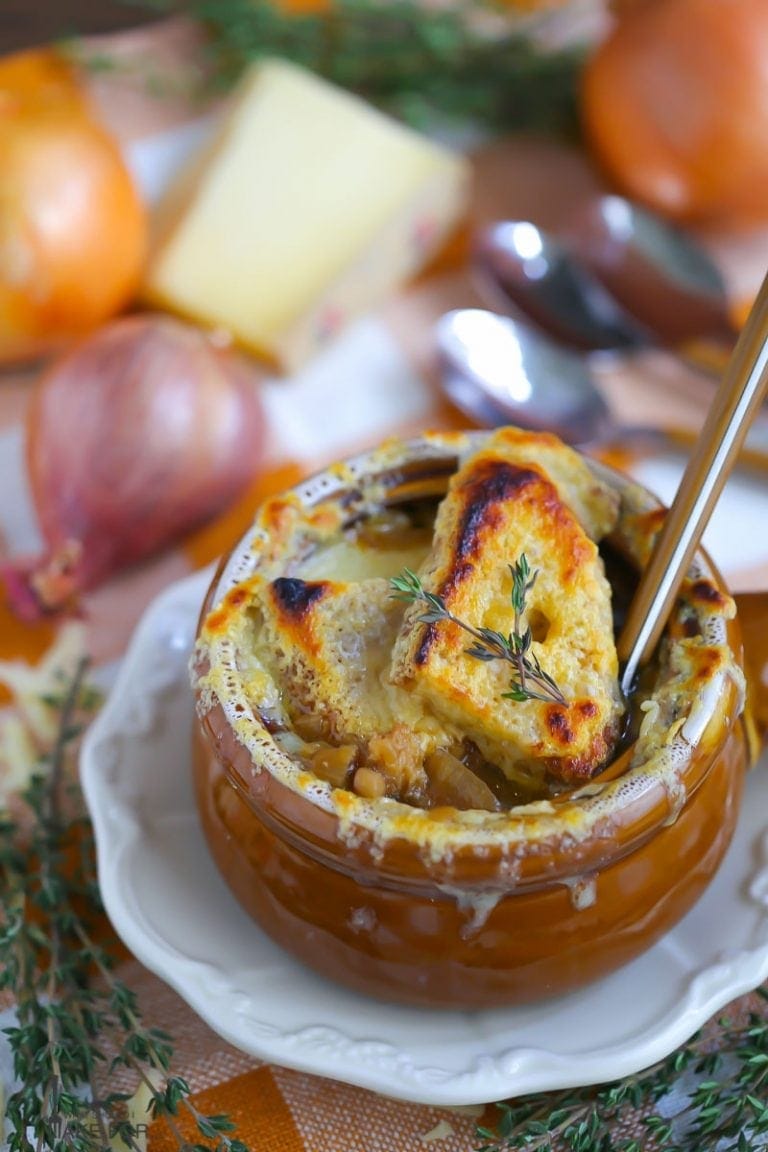 When you think of French onion soup what do you picture? Melted cheese bubbling up over the edges of crispy toast? Well, that's certainly part of it. But eventually you have to crack through that gooey exterior and dig your spoon into the soup. And it better deliver.
Listen, melted cheese and toasty bread are pretty much nirvana to me, so it's a big deal to want to dig past it to get to something else. But with a little time and just the right combination of ingredients I got there. And yes, this soup is spoon-worthy.
The key to this soup is taking your time to properly caramelize the onions before adding the wine or stock. I like to get those onions all golden and soft before adding in the leeks, shallots or garlic. Once all of those are in the pot and browning up, it's time for a little brown sugar and shot of vinegar. This adds a subtle sweetness and brings out the umami flavor.
From there it's wine (I like white), stock (beef for me), fresh herbs (thyme and bay leaf) and finally a glug of port. Also, it's so important that you season your soup from beginning to end. And taste, taste, taste! There's no way to know if your seasoning is right unless you get in there!
Feeling inspired? Then it's time to get building. And all the tools you'll need for this masterpiece are a pot, knife and spoon! Enjoy!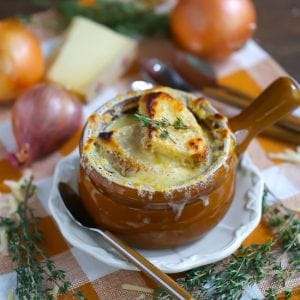 French Onion & Leek Soup
Rich, hearty broth, crunchy bread and gooey cheese make this bowl of french onion soup pure comfort food goodness.
Ingredients
3

Tbsp

unsalted butter

2

lbs

onion

cut in half and sliced into half moons

1

lb

leeks

white and pale green parts, sliced and washed thoroughly

4

oz

shallots

(about 2 large), diced

2

cloves

garlic

minced

2

Tbsp

Wondra flour

or all-purpose

1

Tbsp

light brown sugar

1

Tbsp

sherry vinegar

1 1/2

cups

dry white wine

1

quart

beef stock

1

Tbsp

fresh thyme

minced

1

bay leaf

1-2

tsp

kosher salt

1/4

tsp

freshly ground black pepper

2

Tbsp

port

1

baguette

8

oz

gruyere

grated
Instructions
Heat the butter in a dutch oven or a large heavy-bottomed pot.

Add the onions and a dash of salt and cook over medium/low heat for 15 minutes.

Add the leeks, shallots and garlic and continue to cook for an additional 15 minutes, stirring often.

Stir in the flour and cook for 2 minutes.

Add the light brown sugar, vinegar and a pinch of salt and cook until onions are a deep golden brown and very soft, an additional 15 mins.

Add the wine, bring to a boil and then reduce to a simmer.

Pour in the stock and stir in the thyme, bay leaf, salt (to taste) and pepper. Simmer for 30 mins.

Add the port and simmer an additional 5 mins.

Slice the baguette into rounds and toast in the oven or a toaster.

Ladle the soup into oven safe bowls or crocks, top with a couple of rounds of toasted baguette and a good sprinkling of grated cheese.

Turn your broiler up to high and broil the tops until melted and golden brown.