This post may contain affiliate links. Please see my affiliate disclosure for more information.
Crispy-skinned chicken thighs slathered in a rich, creamy sauce make a deceptively easy weeknight meal.
Back to reality.
I can't tell you how many times I heard that phrase growing up. Anytime a vacation was winding down or we were heading to bed on Sunday night, my dad would utter his favorite (and my least favorite) phrase. And wouldn't you know, just as we hauled out the boxes and bins to pack up all the Christmas decorations…I heard myself say it. Ugh.
But in some ways I'm ready for a good dose of reality. Certainly my body is ready for oatmeal instead of cookies for breakfast and my liver ready for seltzer instead of champagne. I think I'm actually craving a bit of normal, a little routine…going to bed at a reasonable hour, salads, a little exercise.
But never fear. This blog isn't about to change over to all smoothie bowls and green juice. Nope. One thing I've learned about myself over the years is I don't do well with cold turkey. As soon as I withhold, I want.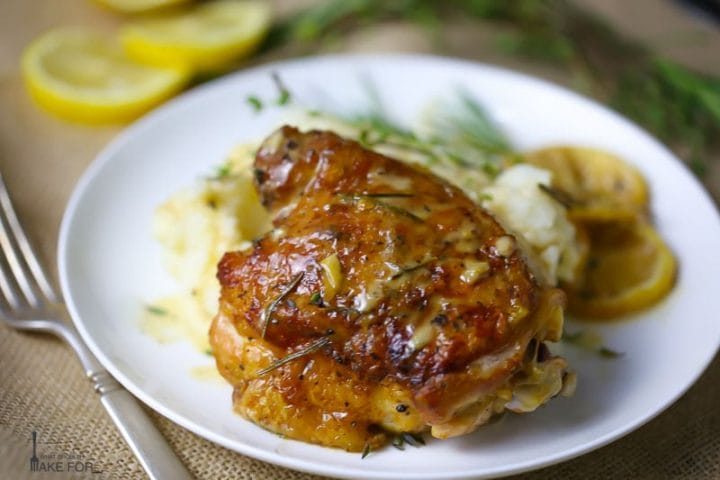 That's not to say there's not the room or desire for a little green juice in my life. Just not all green juice. It's back to balance instead of excess. It's also back to well-rounded dinners around the table. Big salads, some protein and yep, even carbs.
And when the weather is cold I also crave comfort. Stews, hearty soups and braises. Big, rich flavors, creamy sauces. Today's recipe has it all. It's tasty, quick, family-friendly and as cozy as a fuzzy pair of slippers. The sauce is creamy and lemony and herby and the chicken is succulent with a crispy skin. It pairs beautifully with mashed potatoes or a big green salad if you're feeling a little less indulgent. And it's on the table in under an hour, perfect as we get back into our routines.
Hmmmm, maybe this back to reality thing isn't so bad after all.
New to cast iron? Here's everything you need to know about cooking in cast iron pans!
Creamy Lemon and Herb Chicken Thighs
Crispy-skinned chicken thighs slathered in a rich, creamy sauce make a deceptively easy weeknight meal.
Ingredients
1

Tbsp

canola or vegetable oil

4

bone-in chicken thighs

with skins

Salt and pepper

4

large garlic cloves

peeled and smashed

3

sprigs rosemary

6

sprigs thyme

1

lemon

thinly sliced

3/4

cup

dry white wine

1/2

cup

chicken stock

1/2

cup

heavy cream

Salt and pepper to taste
Instructions
Preheat the oven to 450 degrees.

Heat a medium cast iron or oven-safe pan over med/high heat.

Add the oil and place the chicken thighs in the pan, skin-side down. Cook for 6-8 minutes until skin is golden brown and crispy. Flip over and cook another 5 mins.

Remove the chicken and place on a plate and pour off the oil.

Add the garlic, herbs, lemon slices, white wine and chicken stock. Bring to a boil and reduce to simmer.

Arrange the chicken in the pan, skin side up and place the pan in the oven.

Roast the chicken until cooked through, about 20 mins.

Take the pan out of the oven, remove the chicken to a plate and tent with foil.

Place the pan on the stove over medium/high heat and add the cream to the sauce. Bring the sauce to a boil and stir until it thickens slightly. Season with salt and pepper to taste.

Serve the chicken with the sauce spooned over the top and garnish with the lemon slices and herbs.