This post may contain affiliate links. Please see my affiliate disclosure for more information.
Drink and be merry with this easy and festive cranberry ginger fizz cocktail. Tart, sweet, spicy and a whole lot of fun!
Have I mentioned that I love ginger? And cranberries? And cocktails? And of course, the holidays. Well, it just so happens that this festive drink has all of my favorites in one sparkling sip. And lucky you, I'm sharing the recipe just in time for your holiday party.
Even though I've spent the week dragging out all of our Christmas decorations, I'm still having a hard time wrapping my head around the fact that it's actually December. After all, we're still dipping into the jar that's stuffed full of candy from Halloween. (Just sayin those mini Butterfingers come in handy around my 3 pm crash.)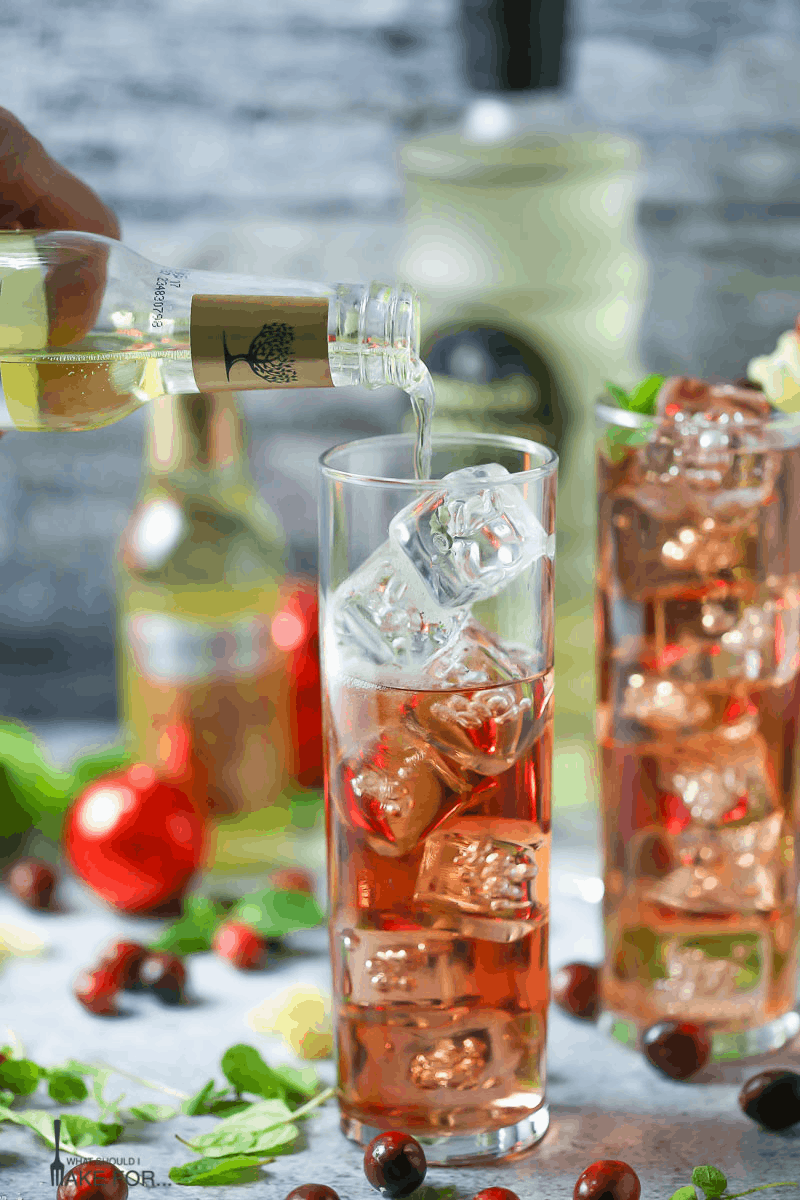 But ready or not, here the holidays come! To someone like myself who is a little, shall we say, obsessive organized about holiday decorating, this makes for a very busy week. See, I have a systematic plan. First we tackle the outside, then move inside and hit all of the rooms, and finally we we pile into the car in search of the perfect tree. Once the tree is firmly in place and (fingers crossed) it's not listing to one side, we give it a day to settle and open up.
The next day I grab my trusty step ladder and string the lights just so. And by just so I mean making sure each branch is perfectly illuminated from trunk to tip. Finally, I lay out all of the ornaments (bulbs here, handmade decorations there) while Steve makes a fire and cranks up the carols. Once we're all set up, we summon the kids and that tree gets trimmed.
I realize that this is not the most relaxed or romantic approach, and dare I say it borders on rigid, but it works for us. After close to twenty years of tree trimming together, Steve understands that I am always going to take twice as long as he would like to wrap the lights around the tree and I need to make sure that the bulb to ornament ratio is always carefully calculated. The most trying years were when the boys were really little and they would hang ten of our heaviest ornaments from a single branch. And yep, as soon as their backs were turned you know I redistributed. Don't judge.
The reason for all the prepping and planning is simply because I want to make the most of our family time. I want the Norman Rockwell moment of sipping hot cocoa and getting nostalgic as the boys hang that popsicle stick creation crafted in kindergarten on the tree. I want the sweet moments to be their memories, not mommy and daddy bickering because the lights aren't evenly distributed. And trust me, we've had plenty of those moments.
Once the task of decorating is complete, there is nothing I enjoy more than holiday entertaining. We're not planning any big parties this year, but we'll definitely be clinking glasses with lots of friends over the next few weeks and I'm all about festive cocktails to set the mood. Proseco with a splash of pomegranate juice is a favorite, as is anything cranberry.
This cranberry ginger fizz has everything I crave in a holiday drink. It's ever so slightly sweet, has a touch of tartness from the cranberries and a hint of spice from the ginger. Garnish it with a couple of cranberries, a sprig of fresh mint, a festive straw, and it's time to kick back, relax and enjoy that perfectly trimmed tree.
Cranberry Ginger Fizz Cocktail
Drink and be merry with this easy and festive cranberry ginger fizz cocktail. Tart, sweet, spicy and a whole lot of fun!
Keyword:
cranberry ginger fizz, ginger fizz cocktail
Ingredients
2

oz

cranberry flavored vodka

1

oz

ginger liqueur

(such as Domaine de Canton)

2

oz

cranberry juice

3

oz

good ginger ale

cranberries, candied ginger, and mint sprig for garnish

(optional)
Instructions
Combine all the ingredients in a glass over ice and stir well.

Garnish with cranberries, a piece of candied ginger, and a mint sprig.
Nutrition Facts
Cranberry Ginger Fizz Cocktail
Amount Per Serving
Calories 273
% Daily Value*
Sodium 9mg0%
Potassium 43mg1%
Carbohydrates 23g8%
Vitamin C 5.3mg6%
* Percent Daily Values are based on a 2000 calorie diet.
39