This post may contain affiliate links. Please see my affiliate disclosure for more information.
Soft scrambled eggs and all of your favorite breakfast taco fixins tucked into a soft corn pancake shell.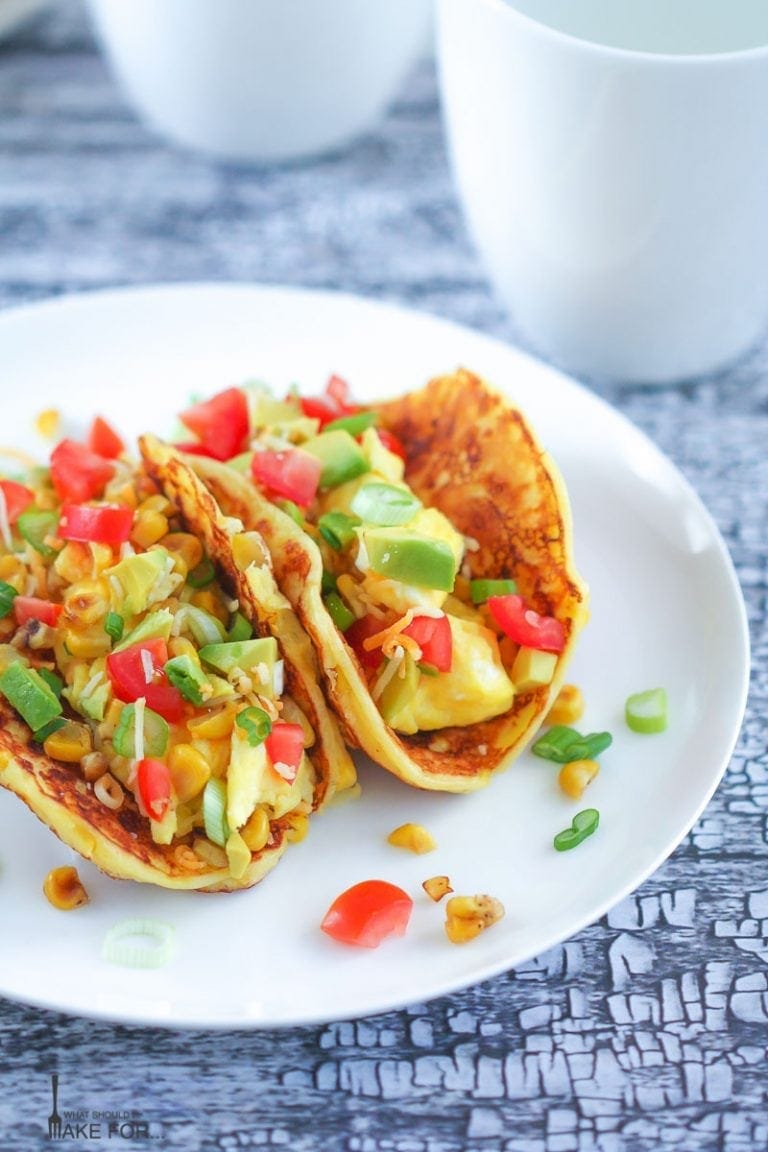 So I made these corn pancakes the other day and truly fell head over heels. But as much as I loved  stabbing a bite and swirling it in maple syrup, I was already fast forwarding to what else I could do with these beauties. I was still in full breakfast mode, but in a savory way. And despite my Italian make-up, I always gravitate toward Mexican flavors in the morning. And that morning my thoughts went immediately to a breakfast taco.
Now, I'm the furthest thing from a morning person, but somehow my brain was firing on all cylinders that day and boy was I right. I warmed the corn pancake and filled it with all my favorites: soft scrambled egg, avocado, tomato, scallions, roasted corn and a light sprinkling of cheese. Oh, and a healthy dose of hot sauce. Hot sauce is a matter of preference and I won't judge you if you skip it. (Okay. maybe I'll judge you a little, but I've never claimed to be nice.)
Maybe it's because I was listening to the Anthony Kiedis from the Red Hot Chili Peppers belt out Californication that morning, but I was transported to the days when we lived in the bay area when I dug into this breakfast taco. Fresh flavors, simple and bright and not doused in a heavy sauce. The corn flavor really comes through but doesn't overshadow all of the toppings. If I learned anything from living in California it was how to appreciate the humble, pure flavors of Mexican food. And this taco is just that. Simple, flavorful and not remotely pretentious.
Now, as I'm writing this I'm already thinking of other ways of making this corn pancake a vessel for other goodness. Rebecca from the (fantastic) blog the Displaced Housewife suggested filling it with carne asada. And well, yeah. She's spot on as usual. You can try my recipe for carne asada tacos here and just substitute a corn pancake for the corn tortilla. Honestly nothing makes me happier than transforming leftovers into great meals. Or taking something like a pancake and making it part of a delicious dinner.
So, my advice today is this. Make these pancakes. And if you have leftovers, tuck all of your favorites inside a pancake shell to make your favorite taco. My breakfast taco recipe is really just a jumping off point. Experiment, eat and enjoy. And maybe play the Red Hot Chili Peppers while you're whipping it up. Somehow their songs just make everything taste a little bit better.
Corn Pancake Breakfast Tacos
Soft scrambled eggs and all of your favorite breakfast taco fixins in a soft corn pancake shell.
Ingredients
Scrambled eggs

Avocado

diced

Tomato

diced

Scallions

Thinly sliced

Fresh corn

roasted or sautéed

Shredded cheddar cheese

Salt and pepper

Hot sauce

if desired
Instructions
Pile eggs and a spoon of other ingredients on a warm pancake, fold and eat like a taco