Swoon-worthy cinnamon swirls make this sweet yeast bread a delicious treat for breakfast, snack-time or dessert!
Oh March. How I doth detest you. After 39+ years (wink wink) on the planet, I still can't get a handle on the third month of the year. It seems my winter clock starts to tick as soon as we set the clocks back in November and come March 1st I am fully ready to welcome spring.
And by welcoming spring I do not mean shoveling the driveway, knocking icicles off my gutters or dragging fallen tree limbs to the curb. Oh, in case you've been living under a rock or haven't checked facebook recently, the northeast got hit with two back to back nor'easters and even more snow this week. No sooner did I spy the first sweet little crocuses of the season in my yard than did I sadly see them get toppled by heavy, wet snow.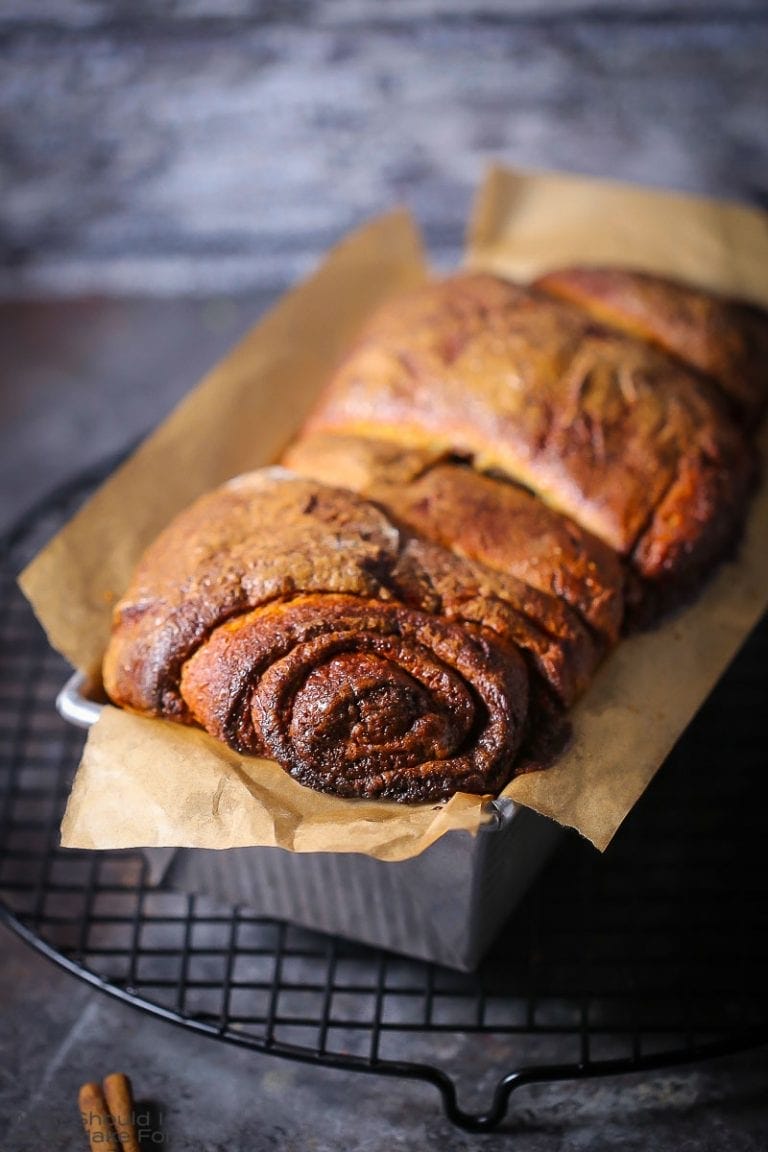 Snowstorms in January? Yep, par for the course. Snowfall in December? We long for a white Christmas! But snow in March? It's straight up hateful and downright depressing. And somehow always shocking.  Never mind that I was bitching about the same thing last year and the year before that. Never mind that I got stuck on spring break in Florida in 1993 (I did say 39 plus) because of a blizzard that ravaged the east coast. It's always a surprise. And not the party type, pop-the-confetti-surprise, but rather the spooky clown grabbing your ankle from the sewer a la "It" surprise.
So how do we combat these winter/spring blues? Carbs. Cinnamon-laced, crunchy-topped, soft-centered carbs. The clouds bring me snow. I counter with babka. A heavenly sweet loaf of babka. Now it's my pledge to always share my tried and true, tastiest recipes on this blog but every now and then I have to play favorites. And this babka, well, let's just say she would get the extra big present for Christmas.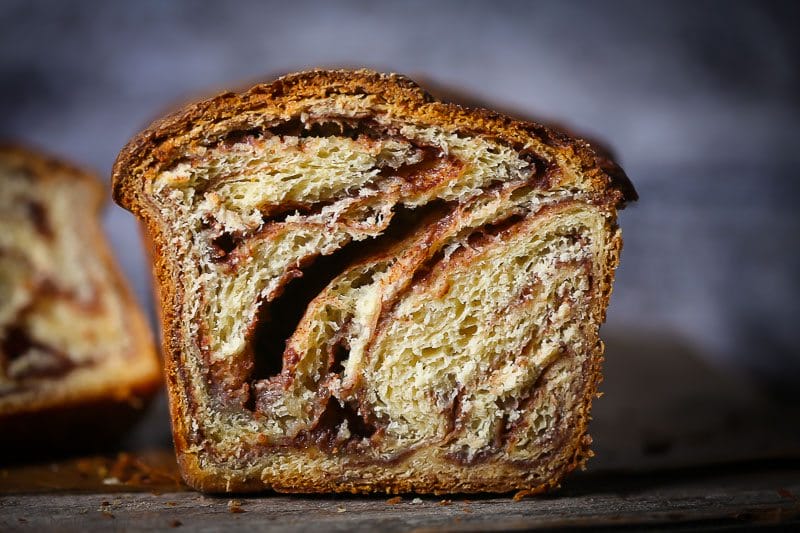 The flavor, the texture, the eye candy….this babka has it all. Sweet, soft, and so delicious sliced fresh or toasted, slathered with butter a couple days post baking..equal yum. It's not hard to make, but it is an investment of time. But since we're socked in and waiting out an angry March, we may as well pass the time by baking.
Cinnamon Babka
Swoon-worthy cinnamon swirls make this sweet yeast bread a delicious treat for breakfast, snack-time or dessert!
Ingredients
2/3

cup

whole milk,

warmed to about 110 degrees F

¼

oz

(1 pkg) active dry yeast

2 ¼

cups

all-purpose flour

1/3

cup

sugar

½

tsp

kosher salt

2

egg yolks

1 ½

tsp

vanilla extract

4

oz

unsalted butter (1 stick),

melted and cooled slightly

1

egg beaten with a little water

1

Tbsp

sugar
Cinnamon Filling
1

cup

light brown sugar

packed

4

oz

unsalted butter

melted

1 ½

Tbsp

cinnamon

¼

tsp

kosher salt
Instructions
Make the Dough
In a small bowl, whisk the yeast into the warmed milk with a pinch of sugar. Let the mixture sit until bubbles begin to form on the surface, about 5 mins.

In the bowl of a stand mixer fitted with a paddle attachement, add the flour, salt, and sugar and stir to combine.

With the mixer set to low, add the milk mixture, egg yolks, vanilla and the melted butter. Mix on low until combined, switch to a dough hook, then increase the speed to medium and mix until the dough is smooth and elastic, about 5 mins.

Grease a large bowl with butter and add the dough. Turn to coat and cover tightly with plastic wrap. Place in a warm part of your kitchen and allow the dough to rise until doubled in size, about 1 – 1 ½ hours.
Cinnamon Filling
While the dough is rising, make the filling. Stir all of the ingredients together and reserve.
Make the Bread
Butter a loaf pan and line with two small sheets of parchment, allowing the paper to overhang on all sides. Set aside.

Preheat the oven to 350 degrees.

After the dough has doubled, turn it out on to a lightly floured surface and roll it into a large rectangle. Spread the filling over the surface and roll it up tightly by the short side.

Stretch and roll it out it into a longer log, about and cut the log in half. Lay one piece on top of the other in a n X and twist both ends together.

Place in the prepared loaf pan and cover loosely with plastic wrap or a clean dish towel. Allow to rise about an hour.

Brush with egg wash and sprinkle with sugar.

Bake until deeply golden brown and set, about 45 mins. Allow to cool in pan for about 10 mins, then remove to a wire rack. Cool to room temperature, slice and serve.
Nutrition Facts
Cinnamon Babka
Amount Per Serving
Calories 517
Calories from Fat 225
% Daily Value*
Fat 25g38%
Cholesterol 132mg44%
Sodium 249mg11%
Potassium 128mg4%
Carbohydrates 66g22%
Protein 6g12%
Vitamin A 835IU17%
Calcium 81mg8%
Iron 2.2mg12%
* Percent Daily Values are based on a 2000 calorie diet.
10