Grab your fork and tuck into these little pillows stuffed full of savory squash drenched in a brown butter sauce. And did I mention they're super easy to make?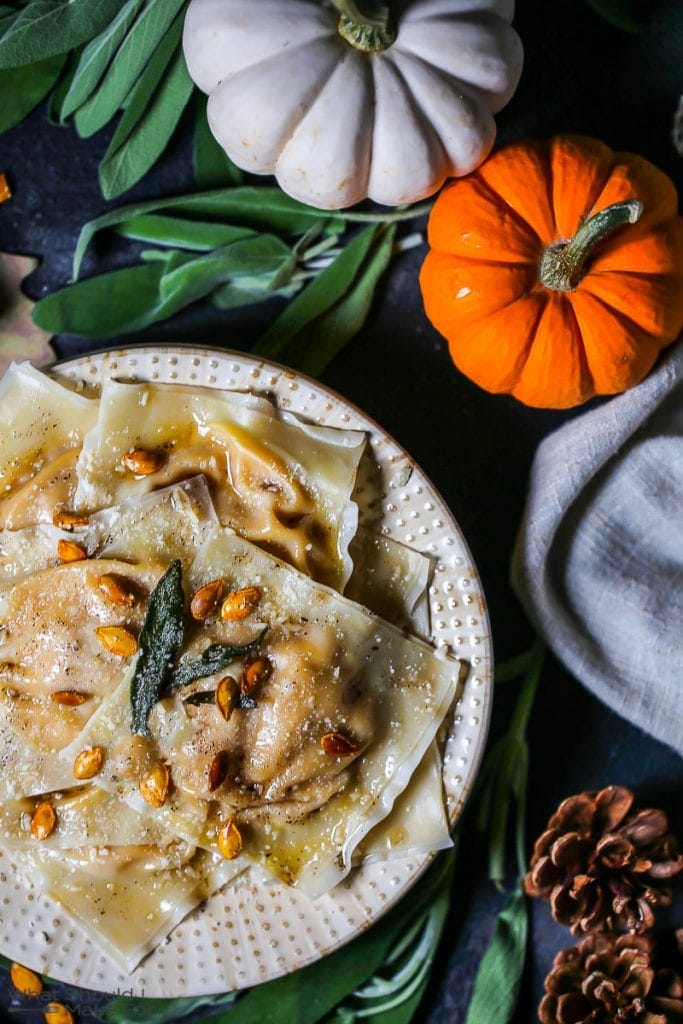 Happy Halloween!
Instead of a terrifying treat or a creepy cocktail, I've decided to share a favorite autumn recipe with you today. Last year I was knee deep in ghost cupcakes and spooky spaghetti, but alas, this year I have a teenager in the house. And guess what? When it comes to Halloween, teenagers are apparently interested in low maintenance costumes, big bags of candy collected on their own with friends, and very little attention or gimmicky meals served by mom.
And listen, I ain't mad about it. I will happily sit on the porch with friends, sip a glass of wine and pass out candy to all the neighborhood ghosts and goblins after my guys set off on their own. It's clearly just one more step down the path of independence and this one happens to be paved in nougat.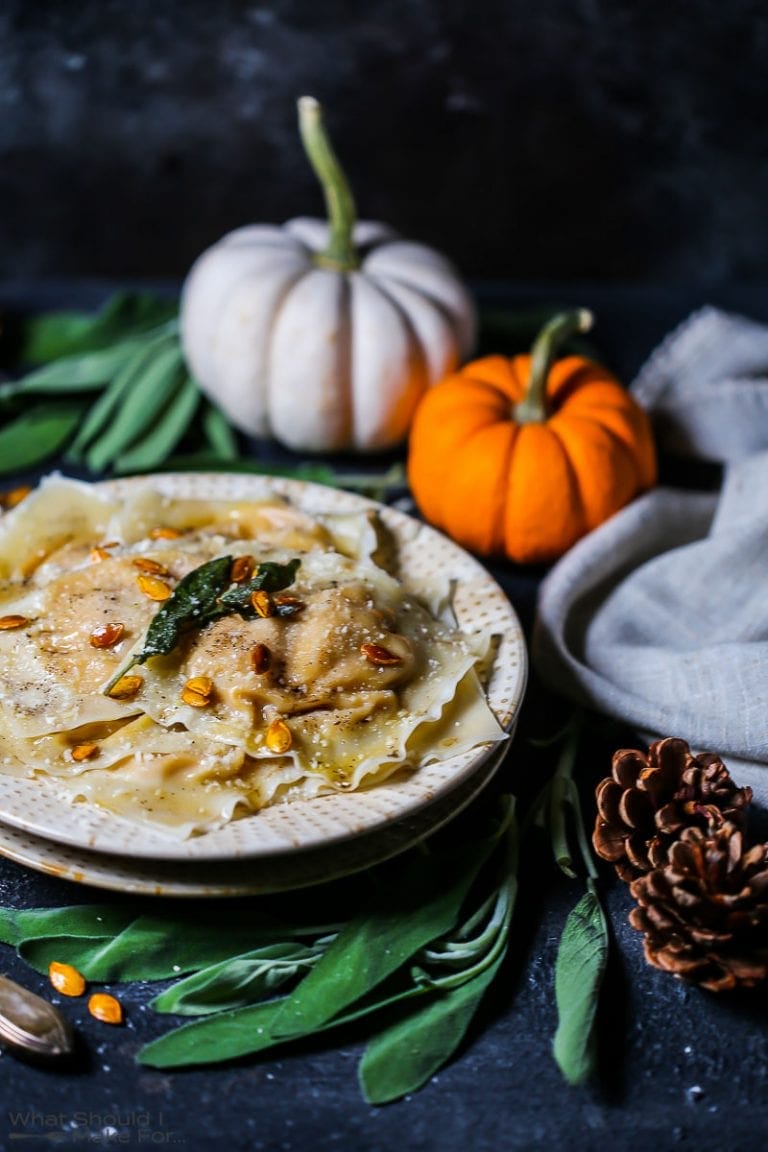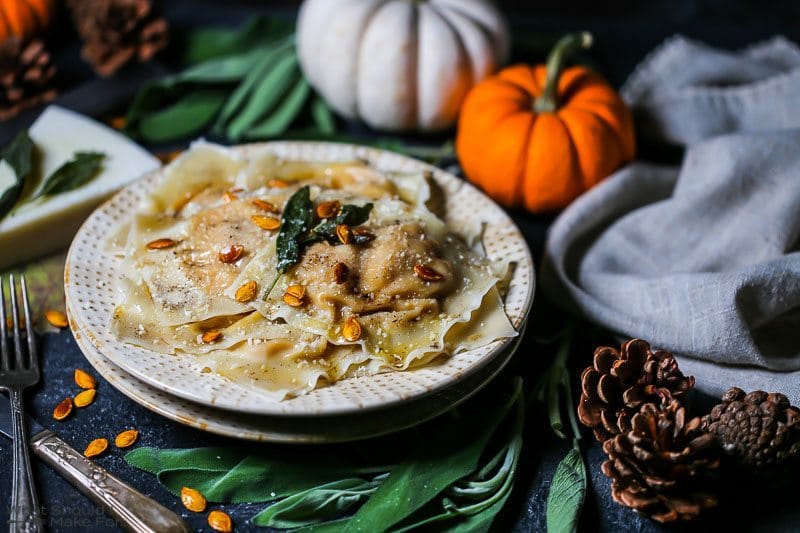 It's interesting the way we exert our independence over the course of our lives. Toddlers throw fistfuls of food or themselves on the floor in tantrumming fits. Teens learn to perfect the art of creative story-telling (aka lying). Young adults might head to Europe, date the wrong guy, and resist the stable job that comes with those mysterious "benefits" that our parents tout the importance of over and over again.
I may have dabbled in a few of the aforementioned behaviors (wrong guy, ehem), but it should come as no surprise that I truly found my independence through food. We had a pretty regular rotating menu of "Italian", "American" and "Italian American" foods growing up, but not much beyond it. After college and a subsequent move to Manhattan I discovered the big wide world of global cuisine: dim sum, sushi, curry, and ramen oh my! But perhaps the most impactful move was stepping out of my marinara laced life and discovering that there is so much more to Italian food than tomatoes and meatballs.  There is one dish in particular that changed the way that I thought about pasta. It happened sometime in the late 90's that I went to an Italian restaurant situated just outside of Columbus Circle on the upper westside and took a chance when the waiter approached. Instead of ordering the usual suspects (lasagna, eggplant, or anything drenched in red) I took a gamble and went for the butternut squash ravioli served in brown butter sauce.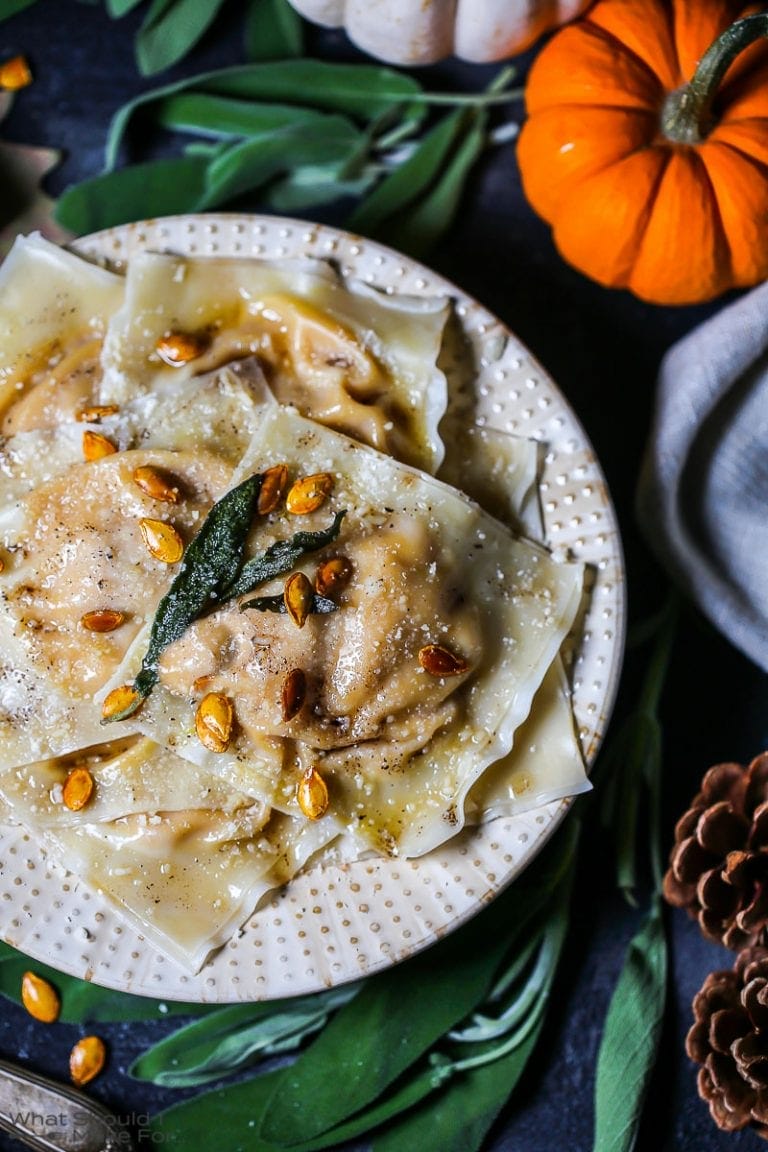 It was transformative. It was autumn in New York and I'd long been a sucker for fall flavors, but marrying them with one of my favorite pasta dishes? Bliss. I popped a bite of that ravioli filled with savory squash into my mouth and I was transported. I was transported out of my childhood and into this new quasi-grown up life where I could not only make my own decisions at a restaurant, but in a job, apartment and yep, even poor choices in dating. This little squash-filled pillow was symbolic of stepping out of my comfortable childhood and into an independent life.
Consider this a teenage, coming-of-age, autumn-in-New York inspired recipe. We're going to roast a butternut squash, scoop out the flesh and blend it with sautéed onions and garlic, cheese and a myriad of fall spices. A heaping tablespoon of this savory filling is sealed between two wonton wrappers (super easy shortcut if you don't want to make your own pasta) and cooked quickly in boiling water before being doused with a toasty brown butter sauce and topped with frizzled sage. For me it tastes not only of squash and fall and nuttiness, but of memories and independence. It's warm and toasty, simple and classic. And lucky for this mom, it also makes a pretty satisfying and uncomplicated dinner for a freshly minted teenage boy on Halloween.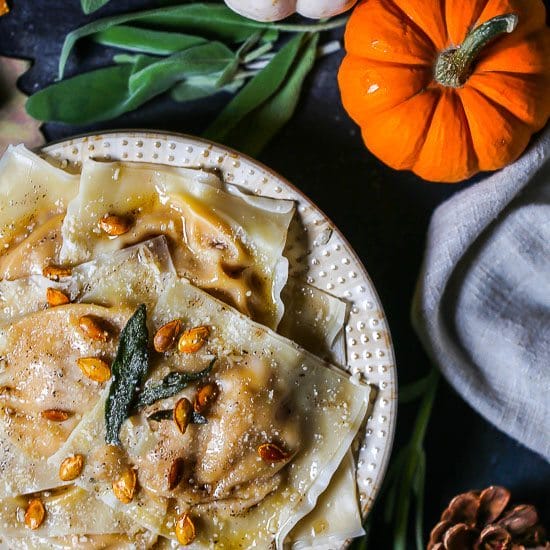 Butternut Squash Ravioli in Brown Butter Sauce
Grab your fork and tuck into these little pillows stuffed full of savory squash drenched in a brown butter sauce. And did I mention they're super easy to make?
Ingredients
1 - 3

lb

butternut squash

cut in half lengthwise and seeded (reserve the seeds if desired)

2

Tbsp

olive oil

Salt and pepper

1

Tbsp

olive oil

1

medium onion

diced

2

garlic clives

minced

1/4

cup

mascarpone

1/4

cup

grated parmesan cheese

1/2

tsp

ground cumin

1/2

tsp

ground nutmeg

1/4

tsp

ground cinnamon

pinch

cloves

1

tsp

kosher salt

1/4

tsp

black pepper

1

egg + 2 Tbsp water

2

packages won-ton wrappers

Makes 48 ravioli

6

oz

unsalted butter

1 1/2 sticks

12

fresh sage leaves

salt and pepper

*Roasted squash seeds

frizzled sage leaves and grated parmesan cheese for garnish
Instructions
Preheat the oven to 400 degrees and line a sheet tray with non stick foil or parchment.

Drizzle the olive oil over the cut side of the butternut squash and season with salt and pepper. Place on the lined sheet tray cut side down and roast for about 45 mins or until the squash can be easily pierced with a fork. You can also roast the seeds on the same sheet tray with a drizzle of oil and sprinkle of salt and garnish your finished dish with them.

While the squash is roasting, heat 1 Tbsp of olive oil in a saute pan set over medium heat and add the diced onion. Cook until softened and golden, about 5 mins, then add the minced garlic. Continue to cook for another 2-3 mins, then allow to cool to room temperature.

Allow the roasted squash to rest until it's cool enough to handle, then scoop the flesh into the bowl of a food processor fitted with a steel blade.

Add the onion and garlic, mascarpone, parmesan, spices and seasonings and process until smooth.

Whisk the egg and water together and line a sheet tray with wax or parchment paper. Lay down one layer of wonton wrappers and brush the edges with the egg wash.

Place a heaping tablespoon of the butternut squash filling in the center of each wrapper and cover with another wrapper. Press the edges to seal well. Repeat with remaining wonton wrappers and filling. Place the ravioli in the refrigerator and put on a large pot of salted water to boil . (Ravioli can also be placed in the freezer on a sheet tray and frozen. Once they're frozen, pop them into a freeze-safe bag for storage.)

Cook the ravioli in batches in the boiling water until just cooked through and they float to the top, about 3 mins.

While you're cooking the ravioli, melt the butter in a small saucepan set over med/high heat until the foaming subsides. Add the sage leaves to the butter and cook, swirling carefully, until the butter is flecked with brown and smells nutty, about 2 minutes more.

Remove from the heat and remove the frizzled sage leaves to a paper towel lined plate.

To serve, spoon the brown butter over the ravioli and top with roasted squash seeds, frizzled sage and freshly grated parmesan cheese.
57