Creamy, cheesy and so satisfying…say hello to my favorite broccoli soup!
So even though I've lived in the suburbs for <gasp!> the past thirteen years since leaving Manhattan, I still grocery shop like a New Yorker. Once the kids were out of diapers I tossed my Costco membership and went back to my old ways of shopping frequently and small. I don't stockpile snacks, canned goods, soap or toothpaste. Sure, there's usually an extra one or two in the cabinet, but bulk shopping isn't for me.
Same goes for menu planning and make-ahead meals. No matter how good my intentions, it never seems to pan out. Even when I make a big pot of stew or soup, properly package it up and store it in the freezer, I usually forget that it's there and end up tossing it months later. Always cursing and vowing never to do it again.
Maybe it's because I'm fickle and I want to eat what I happen to be craving that day, not what I thought I'd be craving when I planned out the menu days before. Or maybe it's because I'm such a list-making, schedule-keeping kook in so many other aspects of my life that I need to be a little looser come meal-time. Whatever it is, I've come to accept that I'm like Norm from Cheers when I walk into the grocery store because I'm there so often. It has its occasional perks, but also its drawbacks when I feel like I need to put lip gloss on before running out to grab a carton of milk.
But good news….whether you're a once a week shopper or a grocery store fixture like me, today's recipe works for all of us. This recipe for broccoli cheese soup is super simple, cooks quickly and (if you have any left) freezes beautifully for future meals.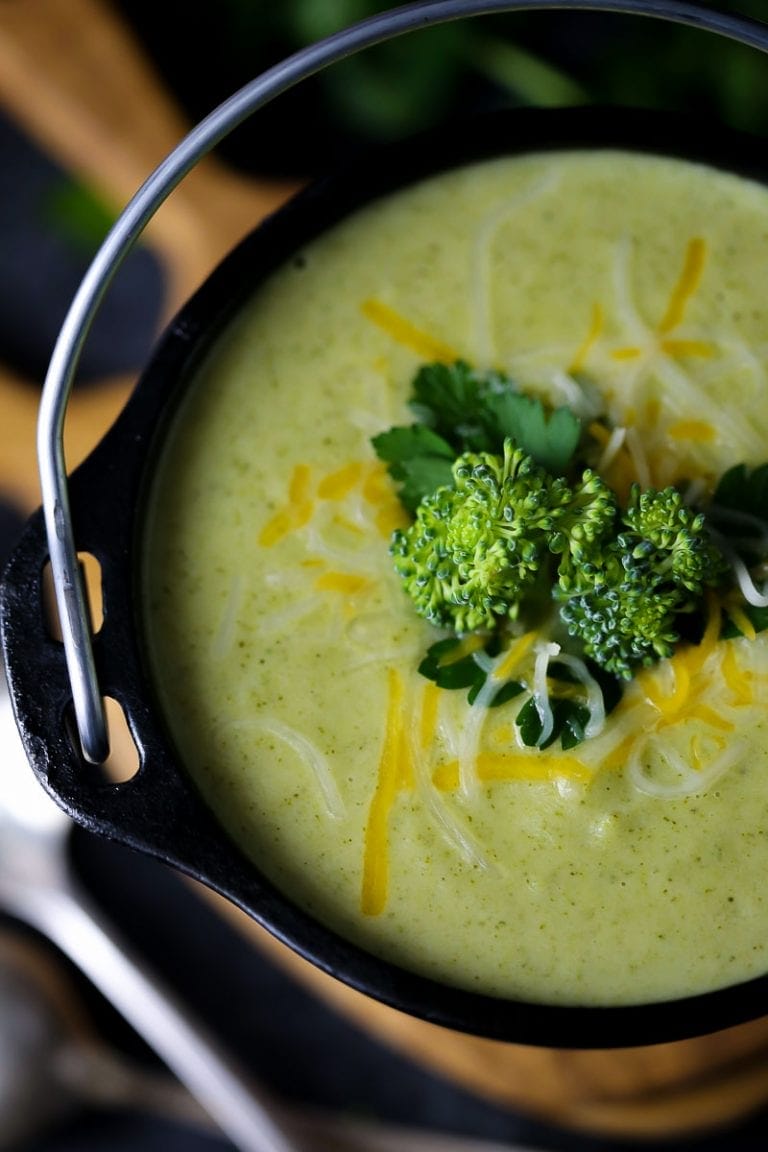 This soup starts with sautéed onions and garlic for a flavorful base and then the broccoli cooks in the stock until just tender. Puree it until silky smooth and stir in a heap of cheese and a dash of nutmeg. The result is warm and comforting and fit for dinner or lunch. I served it for dinner with a big green salad and the leftovers were consumed for lunch. But I did think about my planning-ahead friends and ladled a few scoops into a freezer-friendly container and popped it in next to the ice cream for a test. I defrosted it a couple days later, reheated it and yep…just as good as the day it was made.
So good in fact that I might even make it and freeze it again. Let's just hope I don't forget it.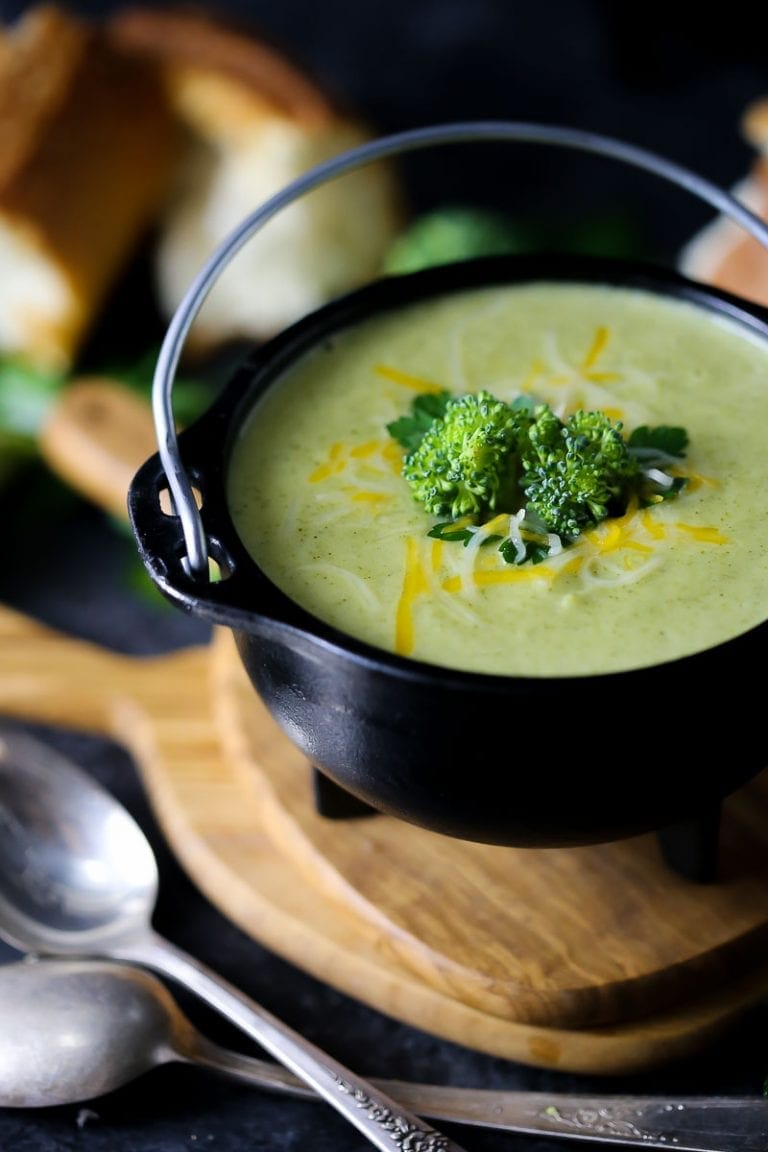 Broccoli Cheese Soup
Creamy, cheesy and so satisfying...say hello to my favorite broccoli soup!
Ingredients
2

Tbsp

unsalted butter

1

large onion

diced

2

cloves

garlic

minced

3 1/2

lbs

broccoli

coarsely chopped

32

oz

chicken or vegetable stock

2

tsp

kosher salt

1/2

tsp

freshly ground black pepper

1/2

tsp

nutmeg

7

oz

grated cheddar cheese

*grated cheddar cheese for garnishing
Instructions
Melt the butter over medium heat in a large heavy bottomed pot or dutch oven.

Add the onion and saute 3-4 mins, Add the garlic and continue cooking for an additional 2 mins.

Add the broccoli, stock, salt and pepper. Reduce the heat to low.

Stir well, cover, and cook for 20 mins or until the broccoli is tender.

Remove from the heat and puree with an immersion blender (or in batches in a blender) until very smooth.

Return to low heat and stir in the nutmeg and the cheese.

Season with salt and pepper to taste and serve with additional grated cheese sprinkled over the top for garnish.
2