This post may contain affiliate links. Please see my affiliate disclosure for more information.
These sweet mini donuts are coated in cinnamon sugar and served alongside a rich chocolate sauce for dipping. YUM!
Believe it or not, this is now my second post inspired by my kid's Spanish class. Yep, anyone that claims that foreign language studies in school aren't productive clearly isn't reading this blog. One of my very first blog posts included a recipe for carne asada tacos that I made for my son to share with his Spanish class for Hispanic Heritage month. Today I'm going straight for your sweet tooth with a treat inspired by churros y chocolate that he is bringing for a class party.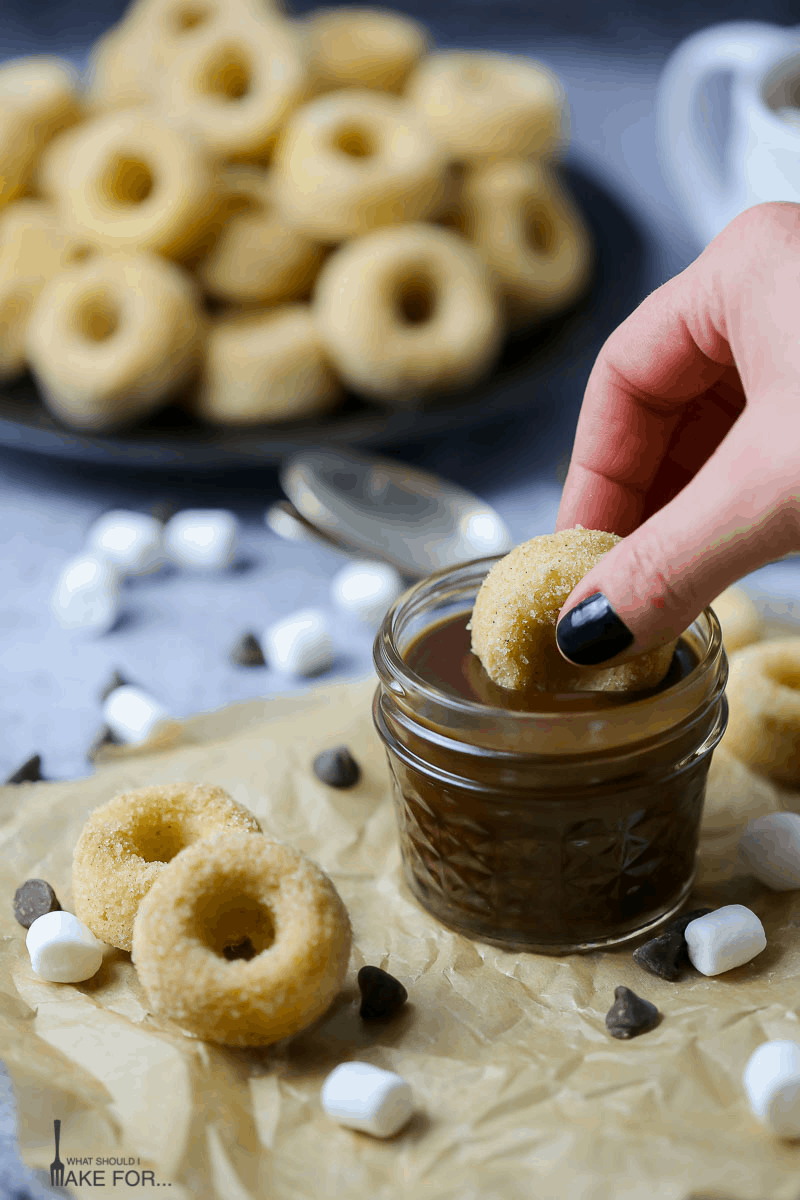 I first learned about churros from my seventh grade Spanish class. As a student I struggled with the Spanish subjunctive, when to use usted instead of tú, and how to roll my r's, but one thing I learned pretty quickly was how delicious churros were, especially when dipped into chocolate.
To be fair, you can't dip "usted" in cinnamon sugar and chocolate, so I really can't call it a contest. But from that very first description to that very first bite, I was hooked.
These baked mini donuts are a slightly healthier version than fried churros and a whole lot less mess. It's a simple batter that is piped into a mini donut pan, baked and then rolled into cinnamon sugar. The chocolate dipping sauce is sweet, but not cloying and because they're mini, the donut to cinnamon sugar coating ratio is just right.
To say that his class gobbled them up would be an understatement. And to say that this was perhaps his favorite homework assignment, well that pretty much goes without saying too.
But the one thing I realized after Jack asked me if I could make something for him to share, is how much I loved being able to do this for him. And better yet, how much he still wanted me to do it. See, we're crossing that line from adolescence to teen and my goal is to stay present in his life as much as I can.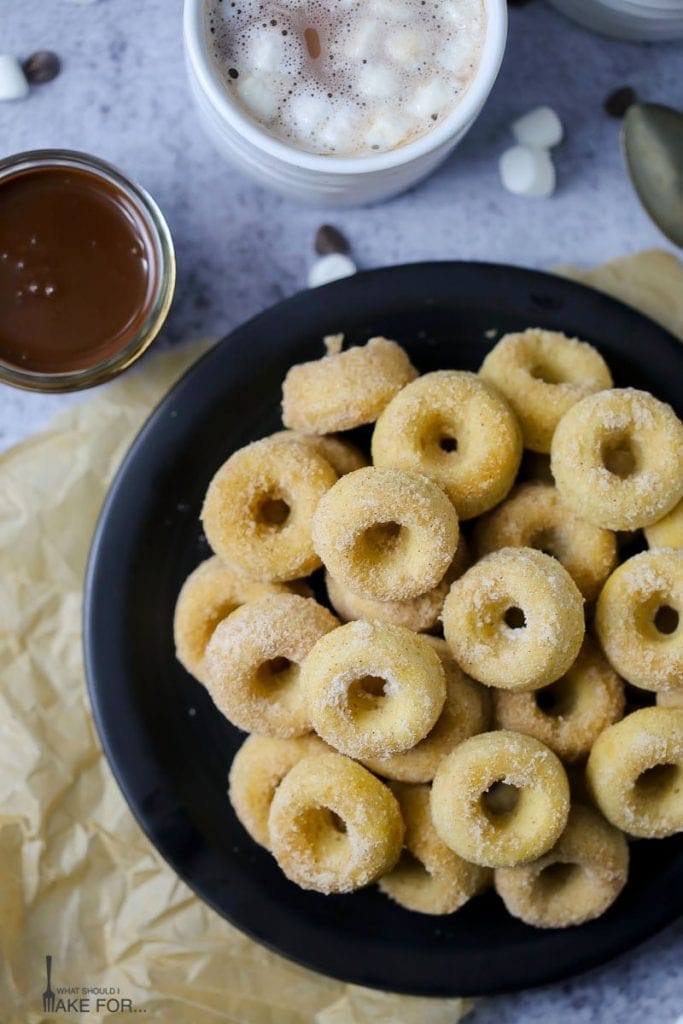 Sometimes being present in his life is shuttling him from place to place. Sometimes it's brushing down that stubborn cowlick in his hair as he walks out the door. Other times it's giving him enough space so he comes to me when I'm needed, instead of me hovering over him. So when he came to me and asked if I could make him something for his Spanish class, I happily obliged.
Sure, maybe it's just a mini donut to him, or maybe it's a little reminder that Mom is here to help. Or maybe it's a reminder to me of what it feels like to be that kid in seventh grade Spanish class. Symbolism or not, the pay-off thank you hug was well worth it. And the leftover donuts weren't bad either.
Baked Cinnamon Mini Donuts with Chocolate Sauce
These sweet mini donuts are coated in cinnamon sugar and served alongside a rich chocolate sauce for dipping. YUM!
Ingredients
Mini Donuts

2

cups

all purpose flour

2

tsp

baking powder

1

tsp

cinnamon

½

tsp

freshly ground nutmeg

½

tsp

kosher salt

4

oz

1 stick unsalted butter, softened

¾

cup

sugar

1

egg

3/4

cup

whole milk

1

tsp

vanilla extract



Donut Coating

2

oz

1/2 stick unsalted butter, melted

½

cup

sugar

1

tsp

cinnamon



Chocolate Dipping Sauce

8

oz

bittersweet chocolate

chopped

6

oz

milk chocolate

chopped

1

Tbsp

corn syrup

2

cups

heavy cream




*special equipment: mini donut pan
Instructions
Mini Donuts: Preheat oven to 350 degrees and coat donut pan with nonstick cooking spray.

In a medium bowl sift together the flour, baking powder, cinnamon, nutmeg and salt.

In a separate bowl, cream the butter and sugar together on high speed with a mixer. Add the egg and beat until combined.

Add 1/3 of the dry ingredients, then 1/2 of the milk, repeating until everything is incorporated. Stir in the vanilla extract.

Fill a pastry bag with the donut batter and pipe into the the donut molds, filling each mold just shy of 2/3 full.

Bake for 8-10 mins or until a toothpick inserted into a donut comes out clean.

Repeat with the rest of the batter, spraying the donut pan before refilling.

Donut Coating: Combine the cinnamon and the sugar.

Release the donuts onto a wire rack and using a pastry brush, brush each warm donut with a little butter then dip into the cinnamon sugar mixture.

Chocolate Dipping Sauce: In a small saucepan, combine all of the ingredients over low heat.

Heat until chocolate is melted, stirring frequently.

Remove from the heat and stir until sauce is well blended and smooth.

Serve donuts alongside chocolate sauce for dipping.